Revolutionary War Payment 1789 signed by Oliver Wolcott (Secretary of the Treasury under Washington )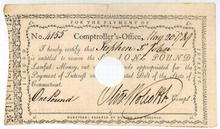 Click thumbnails for expanded view.

Debt payment from Revolutionary War dated 1789 from the State of Connecticut signed by OLIVER WOLCOTT JR. as Comptroller. Punch cancelled. Oliver Wolcott Jr. (1760-1833) was appointed by President George Washington to be the 2nd Secretary of the Treasury. He served from February 3, 1795 to March 3, 1797. Wolcott was retained in office by President John Adams and Served from March 4, 1797 to December 31, 1800. When Alexander Hamilton, the 1st Secretary of the Treasury, resigned from the Cabinet, President Washington appointed Wolcott, placing in the office a man known to be a vigorous supporter of Alexander Hamilton's financial program. Wolcott, a third generation scion of an American family prominent in Connecticut and national affairs during the colonial and early national periods, had attracted attention as a specialist in public finance for his work in settling the financial dispute between Connecticut and the Federal Government in 1784. After serving briefly as Comptroller of Accounts for Connecticut during 1788-1789, he was named Auditor (1789-1791) and then Comptroller of the United States, where he served from 1791 until 1795. An enthusiastic proponent of Alexander Hamilton's financial philosophy and program, Wolcott spent much of his tenure as Secretary of the Treasury defending his increasingly unpopular financial program against the attacks of the Jeffersonians. He was retained in office as Secretary of the Treasury by President John Adams, and served through that Administration until his resignation during the election campaign of 1800, effective December 31, 1800, to accept the U.S. Judgeship of Connecticut. Beginning in 1789, Oliver Wolcott Jr. (b.1760-1833) played an important role in the organization of the nascent Treasury Department. First, as Auditor, he established its clerical forms and methods, and two years later, as Comptroller, he was instrumental in establishing the branches of Secretary Alexander Hamilton's First Bank of the United States. In 1800 Wolcott was appointed by President Washington to be Hamilton's successor, continuing as Secretary under President John Adams. Charged with the task of raising revenue for the rapidly growing federal government, Wolcott constantly sought and received Hamilton's advice. As Hamilton's ally he faced difficulties in Congress, where Hamilton's opponent Albert Gallatin sought more congressional control of Treasury's financial policy. Wolcott resigned in 1800 under a storm of criticism from Jeffersonians in Congress. In reaction he invited a congressional investigation of the Treasury Department in 1801, which cleared his name. Wolcott spent the next ten years as a prosperous businessman in New York City. Returning to political life in 1812, Wolcott organized a party coalition of liberal Federalists and Democratic-Republicans in Connecticut in 1816 as the "Toleration Party," and was elected Governor of the State for several terms from 1817-1827. Oliver Wolcott was born on January 17, 1760 in Litchfield, Connecticut. He graduated from Yale in 1778, served briefly in the Revolutionary Army, and was admitted to the bar in 1781. Oliver Wolcott died on June 1, 1833 in New York City.
Fairfax, Virginia
Seller Since 1995

---
Payments Accepted:
Item Details:
Category
Coins & Currency
Dimensions
Width: 0 inch
Height: 0 inch
Depth: 0 inch
Weight: 0 pound
Condition
See Description
Items Similar To "Revolutionary War Payment 1789 signed by Oliver Wolcott (Secretary of the Treasury under Washington )"