Restaurant China, Airline, Ship & Railroad Dinnerware Volume I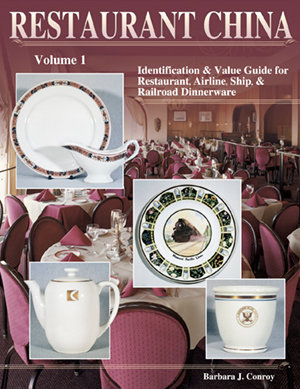 This giant new reference book covers dinnerware, oven-to-table serving pieces, and accessories specifically designed for use in commercial food service, as opposed to household tableware. This fine china is used in restaurants, in addition to hotel, government, company, military, hospital, school, church, club, fraternal organization, department and drugstore, railroad station and airport dining rooms and cafeterias, as well as on trains, ships, and airplanes. Restaurant china brings a hint of nostalgia of pre-freeway cross-country vacations by car or rail, when fast food stops were nonexistent and dining out was a big event for people. In addition to 690 color photographs, Conroy has included lengthy alphabetical topmark lists, logo illustrations, value ranges, and in-depth sections on manufacturing and decoration techniques. 2003 values. 8.5 X 11. SHIPPING FEES: Domestic shipping is available for $6.00 for the 1st book and $0.70 each additional book (via media mail). International shipping is available or $11.00 per book via USPS (15 to 20 business days for delivery) and $30.00 fro the first book 1st book and $10.00 each additional book via FedEx (4 to 8 business days for delivery).
Dealer accepts: PayPal
Shipping: $6.00
Items Similar To "Restaurant China, Airline, Ship & Railroad Dinnerware Volume I"