"Red boudoir" limited edition giclee on canvas of Cleo in impressionism style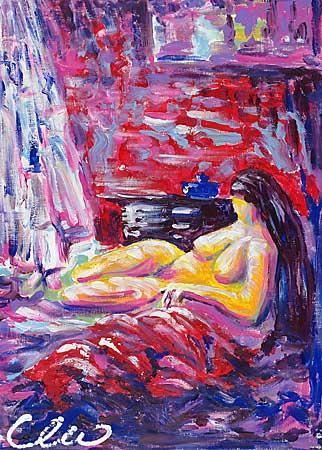 "Red boudoir" - limited edition giclee on canvas.
Limited Edition Giclee on canvas from original oil painting "Red boudoir" in impressionism style of famous French artist Cleo.
Giclee is available in a limited edition of 100 on canvas, measures (without fields) 24x30 inches (60x75cm).
Each giclee has title and number on a back.
Original price of this giclee is 1000 $! You can buy just now only 500 $! Giclee will be delivery unframed in protective tube.
Shipping through USPS. Shipping/Handling: $15.00 USD Insurance: $1.00 USD
What is Giclee:
Giclee printing is widely recognized as being the highest quality of all existing fine art printing methods. Many museums of world have made Giclee editions a permanent part of their collections. Our giclees are created from original paintings and watercolors, using the finest quality ink and canvas and paper. These inks can assure the art image on Giclee to last for 100 years.
***
About artist: Cleo (1943 - 2007)
Cleo (Clementina Cote) was born near Lyon in 1943 and has died in 2007. Her violent youth fell on sixtieth years of the twenty century - the time of "Children of flowers", sex revolution and creation of communes.
This pseudonym - Cleo, more precisely, abbreviation from her name and her family name - Clementina Cote, she invented for herself as a protest against her family name, it seemed for her very long and old-fashioned. Cleo, thus she was known in communes and in Giverny and like this she signed her paintings.
The rebel, Child of flowers, Cleo didn't recognize all official art and any critic. Although she got artistic education in the Academy of Fine Arts, Cleo denied the power of museums and auctions and also the power of exhibitions and biannual exhibitions over a artist and his art. She was independent in her choice to create and to charge her works. Cleo could offer her painting to beggar or to sell for million to arabic sheikh. Every time it was her emotional burst.
Fashion tendency - non-conformism, fashion artists - Pablo Picasso, Salvador Dali, Marc Chagall. When Cleo was sixteen she escaped from home to Paris to become the pupil Picasso, by whom art she was affected these years. Cleo was lucky - the aged maestro gave her some lessons in his Paris studio. It roused her to choice of her profession and her life. Cleo always remembered this time and knew herself as his pupil Picasso. Later, her life crossed with other artists - Dali and Chagall and from each she took some particle of experience. These lessons and these meetings significantly influenced her artistic world-outlook. Cleo considered these meetings and these lessons as apprenticeship, as the best school, which influenced her more than academic artistic education.
So Cleo lived a lot of time in Giverny. Its influence is clearly expressed in her art. Her paintings become more restrained, a big harmony of colours so characteristic of Monet, begin to apparent. In her works appear some subjects, absent before: still lives, flowers, views of Giverny. And in the same time this period is one of the most impressive and critical moments in her art. It is from this moment that she becomes Artist - Cleo that we know today. Wildness, lack of restraint of her early art were balanced by impressive individuality multiplied on the experience, skills and dissolution in her art... (full text on our cite Gallery-2000...)
NY, NY,
Seller Since 1999
Dealer accepts: PayPal, 2Checkout, Cash
Shipping: USPS Express Mail
Items Similar To ""Red boudoir" limited edition giclee on canvas of Cleo in impres..."