Rare, Monumental, Antique English, Sterling Silver "Warwick Vase" Bowl - Georgian, Dated 1818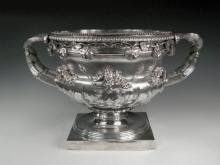 Click thumbnails for expanded view.




An Exceptional Quality, Massive, Sterling Silver Warwick Vase. George III Dated 1818, Made By Solomon Royes & John East Dix In London, England. The Detail Is Exceptional, Probably The Best You Could Find, And Probably One Of The Earliest & Largest Examples In Sterling Silver. The Original Warwick Vase Was An Ancient Roman Marble Vase With Bacchic Ornament That Was Discovered In Pieces, In Rome At Hadrian's Villa, Tivoli About 1771 by Gavin Hamilton, A Scottish Painter, Antiquarian And Art Dealer. The Vase Was Found In The Silt Of A Marshy Pond At The Low Point Of The Villa's Extensive Grounds, Hamilton Had Obtained Excavation Rights And Proceeded To Drain The Area. Hamilton Sold The Fragments To Sir William Hamilton, British Envoy At The Court Of Naples, Who Had It Repaired & Restored. It Then Passed To His Nephew George Greville, 2nd Earl of Warwick, Who Brought It Back To Warwick Castle W It Caused A Sensation. At First It Sat On The Lawn At The Castle, But Later Was Moved Into A Green House To Preserve It From The Weather. The Vase Was Widely Admired And Much Visited In The Earl's Greenhouse, But He Permitted No Full Size Copies To Be Made Of It, Until Molds Were Made At The Special Request Of Lord Lonsdale, Who Intended To Have A Full Size Replica Cast In Silver. The Sculptor William Theed The Elder, Who Was Working For The Royal Silversmiths Rundell, Bridge & Rundell, Was Put In Charge Of The Arrangements, But Lord Lonsdale Changed His Mind, And The Project Was Aborted. The Rich Ornament, And The Form, Which Is Echoed In Sixteenth Century Mannerist Vases, Combined To Give The Warwick Vase Great Appeal To The Nineteenth Century Eye: Numerous Examples In Silver And Bronze Were Made, And Porcelain Versions By Rockingham and Worcester. Theed's Moulds Were Sent To Paris, W Two Full Size Bronze Replicas Were Cast, One Now In Windsor Castle, The Other In The Fitzwilliam Museum, Cambridge. It Was The Model For The Silver Gilt Tennis Trophy, The Norman Brookes Challenge Cup Won At The Australian Open. .. The Vase Has Two Large Handles Formed Of Interwoven Vine Branches, From Which The Tendrils, Leaves, And Clustering Grapes Spread Around The Upper Margin And Features Classical Bacchanal Masks And Associated Emblems, Such As A Pine Cone Tip Staff Known As A Thyrsus. Enfolding The Middle Of The Body Is The Skin Of A Panther, With Head And Claws. Above Are Heads, All Representing Satyrs, Except One, Which Is That Of A Female, Traditionally Said To Have Been Substituted For A Missing Head And Made By An Italian Carver In The 18th century Into The Likeness Of Lady Hamilton; However, As The Result Of A Supposed Quarrel With Her, The Carver Gave Lady Hamilton's Head A Fawn's Ear. The Vase Stands On A Square Pedestal Foot. A Truly Remarkable Item Of Historical Interest As Well As Being Decorative & Usable. This Is An Investment Quality Item. .. .. Weighs Approx. 425 Troy Oz = 13,220 Gramns, Well Over 29 Pounds
Payments Accepted:
Shipping:
Negotiated with Seller
Item Details:
Maker
Solomon Royes & John East Dix
Country of Origin
England
Dimensions
Width: 22 inches
Height: 15.25 inches
Depth: 15.5 inches
Weight: 29 pounds
Items Similar To "Rare, Monumental, Antique English, Sterling Silver "Warwick Vase" Bowl - Georgian, Dated 1818"