Quan Yin, Goddess of Mercy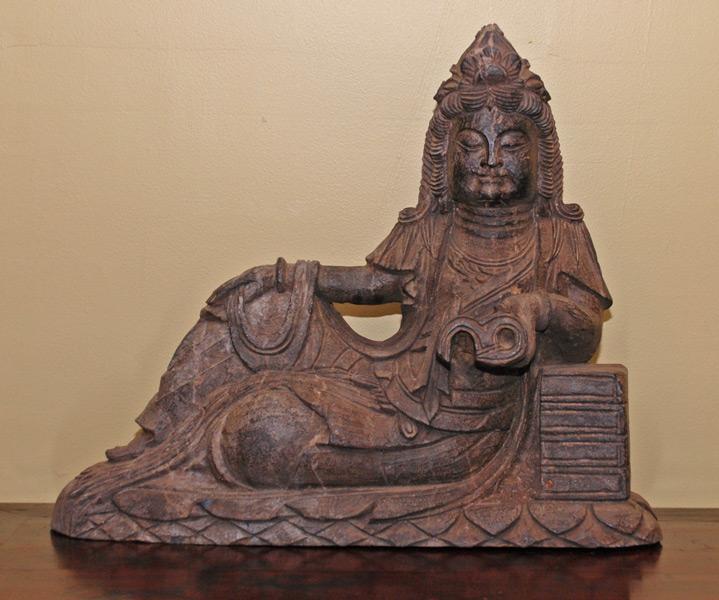 Statue of Quan Yin lounging is carved from stone. The brownish-gray stone is very dense and heavy but the carvings are very fine and delicate. Carvings are on all sides of the statue.

As per Wikipedia....Guan Yin is the bodhisattva of compassion as venerated by East Asian Buddhists, usually as a female. She is also known as the Chinese Bodhisattva of Compassion.

It is generally accepted that Guan Yin originated as the Sanskrit Avalokiteœvara, which is her male form. Another version suggests she originated from the Taoist Immortal "Ci Hang Zhen Ren". Commonly known in the West as the Goddess of Mercy, Guan Yin is also revered by Chinese Taoists as an Immortal. The name Guan Yin, also spelt Kuan Yin, is short for Kuan-shih Yin which means "Observing the Sounds (or Cries) of the World".

In Japanese, Guan Yin is pronounced Kannon or more formally Kanzeon. In Korean, the Bodhisattva is called Gwan-eum or Gwanse-eum. In Thai, the name is called Kuan Eim or Prah Mae Kuan Eim, and in Vietnamese, the name is Quan Am.
New Orleans, Louisiana
Seller Since 2008
Dealer accepts: PayPal, Money Order
Shipping: $89.00