Pei Mei Chinese Cook Book Vol 1,2,3 Chinese English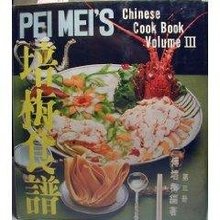 Click thumbnails for expanded view.

$129.00

---

Quantity Available: 1
Pei Mei Chinese Cook Book Vol 1,2,3 Chinese English
Description:
FREE USPS PRIORITY MAIL SHIPING USA ONLY
FREE USPS FIRST CLASS MAIL SHIPPING CANADA & MEXICO & OVERSEAS = WE SHIP WORLDWIDE
Pei Mei's Chinese Cook Book Set
Complete set Volumes 1 & 2 & 3 LIGHTLY USED
hardcover with dustjackets
Volume 1
Volume 2
Volume 3, 1979 edition
PEI MEI IS THE JULIA CHILD OF TAIWAN
Dustjacket is crisp but not perfect, very minor creases just for the sake of being complete and total

hardcover, dust jacket, clear plastic protective cover
FREE SHIPPING IN THE US
Satisfaction guaranteed.
Chinese Recipes in English on one page
in Chinese on opposing page
Color Photos
Contents:
Introduction
Abbreviations of weights and measures
Contents of Recipes
Kingche Style Dishes
Cantonese Style Dishes
Szechuan Style Dishes
Northern China Style Dishes
Hunan Style Dishes
Fukien Style Dishes
Taiwan Style Dishes
Vegetarian Style Dishes
Contents of Buffet Style Dishes
Index
A friend and former co-worker from Taiwan told me that Pei Mei was Taiwan's version of Julia Child !
Miss Fu Pei-Mei is a famous Chinese culinary artist with the most distinguished background. Born in Foo-Shan County of Shantung Province. During the 2nd World War, she studied in a Japanese high school for girls in Dairen, Manchuria. After V-J Day, she went to Peiping and attended the National Girl's Normal University to further her study. Not too long after coming to Taiwan, she married Mr. Ch'eng Shao-ch'ing. At present, they have two lovely daughters and one son. Miss Fu has boon interested in culinary arts since her childhood. She had studied from many top-grade chefs from all parts of China for several years. She also went to Japan for advanced study on food nutrition. Through endless practice and eager research, she has perfected numerous Chinese recipes in line with the trend of the modern cuisine development in the world.
In 1955, she established the Chinese Cooking Institute in Taipei. During the last two decades, more than ten thousand students have studied cooking under her direct guidance. In 1982 when television was first introduced to Taiwan, she started a Chinese cooking demonstration program at the invitation and sponsorship of Taiwan Television Company. This once a week culinary teaching program, which continues up to this day, has been deeply appreciated by countless housewife audiences. Later on, she assumed a membership in a committee, established by the Overseas Chinese Affairs Com- mission, for selecting qualified chefs to be employed overseas. She had acted as a judge of the Hong Kong Amateur Cooking Contest Committee. She was also asked by various governmental agencies to improve their mess services. Invitations from Japan, Hong Kong and other Southeast Asian nations to demonstrate Chinese cuisine have been frequent and she has conducted video taped programs to explain and popularize Chinese dishes of Taiwan.
Miss Fu Pei-Mei, Taiwan's celebrated television chef, has had about fifteen years' experience in demonstrating the art of Chinese cookery. Her association with ladies of many other countries, who have shown interest in her art, has encouraged her to present this most comprehensive book in English and Chinese.
She has skillfully compiled and up-dated recipes for more than one hundred traditional dishes which will appeal to both western and eastern tastes. Hopefully, the ease with which these dishes can be prepared will increase interest in Oriental cuisine and encourage further research by young and old cooks alike.
Satisfaction guaranteed. Please visit our store for Volume 1 and volume 2 by Pei Mei, also in English and Chinese.
About Us:
Dealer Accepts:
Shipping:
Negotiated with Seller
Item Details:
Dimensions
Width: 0 inch
Height: 0 inch
Depth: 0 inch
Weight: 0 pound
Items Similar To "Pei Mei Chinese Cook Book Vol 1,2,3 Chinese English"