Pei Mei Chinese Cook Book Volume 2 Chinese English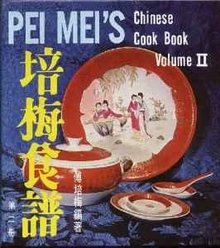 Click thumbnails for expanded view.

$79.22

---

Quantity Available: 3


Pei Mei Chinese Cook Book Volume 2 Chinese & English
Description:
FREE SHIPPING US & WORLDWIDE OVERSEAS

Pei Mei's Chinese Cook Book
Volume 2, 1974 edition
This volume 2 is about 10 or 20 times scarcer than volume 1

FREE USPS PRIORITY MAIL SHIPPING USA
FREE USPS FIRST CLASS SHIPPING CANADA AND OVERSEAS

Satisfaction guaranteed.
Chinese Recipes in English on one page
in Chinese on opposing page
Color Photos
Contents
Foreword 1
Introduction 5-8
About the Chinese Menu 9-11
About Chinese Condiments & Spices 15-19
Contents of Recipes 24-28
Abbreviations, Weights & Measure 29
Contents of Color Picture 30
Index of Recipes Volume I 375-379
English-Chinese List of Foodstuffs 380-383
About the Author 384
Introduction
A nation looks upon citizens as its roots, while citizens depend upon food for living "So states a maxim of Dr. Sun Yat-sen, the father of the Republic of China, in his Three People's Principles. Today, the people in the province of Taiwan, in the Republic of China, the model province of the Three People's Principles, not only have enough to eat, but also seek delicate and exquisite dishes. Chinese cooking is an art. Since ancient times, it has been the people's daily life and practical art. In spite of scientific progress today, mankind still has no way to revolutionize cuisine. Due to the fact that the high standard of quality, beautiful coloring, attractive fragrance, and the taste of the Chinese cuisine are unmatched in the world, people all over the world love it. At present, Taiwan's economy has developed rapidly and the society is prosperous. The people have obtained a high living standard and enjoy better clothes, food, dwellings, transportation, education, and entertainment. As a result of this prosperity, many women have flocked to study Chinese cooking. This is due to the fact that food is human life's great need. It directly increases the body's health, stimulates the spirit, stabilizes the emotions, and it is closely related to the individual's and family's happiness and success. Therefore, the question is how to use a limited family budget in a beneficial way so that food is both nutritious and delicious and how to promote the cooking to achieve a satisfying taste to please everybody's palate. Indeed, this is an important mission in modern life.
In 1969, 1 wrote my first volume, Pei Mei's Chinese Cookbook It received a wide and warm welcome from its readers. Overseas Chinese and foreigners appreciated it and considered it quite valuable. This was due to the fact that there was no complete and accurate English-Chinese cookbook either in Taiwan or abroad at that time. Many readers who obtained a copy benefited from it, others praised it, still others voluntarily recommended it to their friends, and foreign friends publicized it. All of these reactions comforted and encouraged me to the utmost. Meanwhile, the government of the Republic of China was also pleased with the book, certifying it as a representative of Chinese culture, and displayed it many times in various World Book Fairs in the U.S., Canada, and other countries.
In recent years, I have had a plan to write and publish another more exquisite and complete cookbook for the readers who love the culinary art here in Taiwan and abroad. This new volume should be a great service and more helpful to its readers. My time has been greatly limited due to my heavy teaching schedule and it is complicated by the fact that I am often assigned to teach and consult with overseas Chinese. Thus, this volume could not be presented to the readers until now. I hope that the readers will forgive me for the delay.
In the first volume, the dishes were divided according to the geographical areas of China-North, East, South, and West. In this volume, to make it more convenient for the readers, the recipes have been arranged on the basis of the main ingredients of the dishes. Altogether there are eleven sections, namely; Chicken, Duck, Pork, Beef, Fish, Shrimp and Seafood, Beancurd and Eggs, Vegetables, Soups, Noodles and Rice, and Sweet Desserts. Since there are so many Chinese dishes, it was very difficult to choose the recipes for this book. Due to the restriction of space, there are only ten recipes in each section. Some are frequently used family recipes while others are for entertaining. I have tried to use ingredients which are readily available here and abroad. In these recipes I have provided the basic seasonings and ingredients, but it is up to the reader to increase or decrease them according to his taste. It is unnecessary to be tied to the conventions and the rules mentioned in the book.
In addition to the basic techniques, there are some other items closely related to the success of good cooking, such as the cutting, the seasoning, the length of heat, and even the final arrangement on the platter. But they are quite flexible. It often depends on each person's experience, intelligence, and feeling. Furthermore, one can create new dishes through his own experience. In this book, the following newly created recipes are all based on my own conceptions Baby and Mother Shrimp, Sliced Chinese Rice Omelet, and Chinese Salad Rich Style. These recipes are complete in their color, fragrance, and taste. I sincerely hope that every one will appreciate and like them.
Time passes very fast. It has now been twenty years since I started my own Chinese Cooking Class which has sprouted and grown up vigorously. During the past two decades, of course, I have encountered unlimited difficulties and hardships. Looking back at it, I remember that due to my own interest in studying the techniques of Chinese cooking, I often requested famous Chinese cooks to give me some advice and teach me. At that time, the only way to learn Chinese cooking was to observe carefully. Only demonstrations were held without any instructions or explanations. With an accumulation of experience, I began to practice what I had learned. Later on, I was able to compile detailed cooking materials with systematic theories and methods so that one can measure the exact time and quantity. Anyone who wants to learn Chinese cooking now can easily understand the secrets and the shortcuts of it. One can achieve the maximum results with little effort.
In 1962, the first television company was established in Taiwan. I accepted an offer from TTV Company to teach a demonstration cooking program once a week. Television disseminated the program very effectively. It allowed people who stay home to learn cooking skills and a variety of dishes. Now color television is becoming more popular in Taiwan. Every Sunday afternoon my program is shown. The colorful and beautiful dishes make the program not only more realistic, but also has increased its efficiency. It is said that you reap what you sow "I see today and think how it was before. I have devoted my life to promoting the Chinese culinary art. I have tried my best to make a contribution to society which I think has been beneficial.
The use of the knife and the degree of heat are probably the two most important things to consider when cooking Chinese food. The thickness, size, and length of an ingredient will influence its taste and beauty. In addition, the control of the heat is crucial since the temperature of the oil can change in seconds. It is necessary to rely on your past experience in order to react accurately to the situation. I have spent a lot of time writing and preparing this book. I sincerely hope that the publication of this book will meet the readers' requirements. Any advice or suggestions from the readers will be welcomed and appreciated. Many of my friends have helped to compile this book. I would like to take this chance to thank them all. It is impossible to list all of the nam
Dealer Accepts:
Shipping:
Negotiated with Seller
Item Details:
Dimensions
Width: 0 inch
Height: 0 inch
Depth: 0 inch
Weight: 0 pound
Items Similar To "Pei Mei Chinese Cook Book Volume 2 Chinese English"