Pater Sato S/N Lithogaph Print, Butterflies,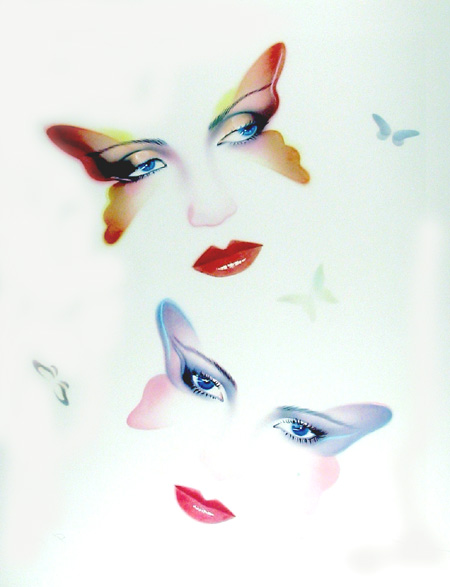 Artist: Pater Sato
Title: Butterflies
Year: Circa 1980
Medium: Lithograph, signed in pencil
Edition: 500, AP
Paper Size: 25" x 19"
Born in Yokosuka, Japan in 1945, Pater Sato's real name is Yoshinori Sato. Raised in Tokyo in the early sixties he began illustration at Studio Graphis in Tokyo. In the mid-sixties he attended Setsu Mode Seminar, school of fashion illustration. After graduation in 1967, Pater Sato began working at Tokyo Ad Designers Studio. In 1970 he joined Avant-Garde Acting Group, "Tokyo Kid Brothers," in Tokyo, and worked as an art director and illustrator, then toured with them in New York and designed sets for their off-Broadway musical plays at Cafe La Mama. Returning to Tokyo in the early seventies, Pater Sato worked as a free-lance illustrator. He is currently back in New York doing free-lance illustration.
INDIVIDUAL EXHIBITIONS 1979 One-man exhibition of Lithography/Venus-Venus Green Collection, Tokyo. 1979 Contributing artist for the book AIR POWERED, a book on the leaders in airbrush art,R.H. Childers Prod, Inc. COLLECTIVE EXHIBITIONS 1979 Finland Poster Biennale 1978 Japanese Graphic Design Exhibition, New York 1978 130 Illustrateurs Japonais Exhibition, Paris, France 1978 Rocky Project Europa Exhibition, Milano, Italy 1976 Art World Gallery, Soho, New York, New York 1974 Home Run Exhibition of Illustrators, Tokyo, Japan 1965 Japan Fashion Illustration Exhibition
Pater Sate's works have been published in major periodicals and books in the United States, Europe and Japan.
Dealer accepts: Check, Authorize.Net, Cash, PayPal
Shipping: Negotiated with Seller
Items Similar To "Pater Sato S/N Lithogaph Print, Butterflies,"