Parker Guns Shooting Flying and the American Experience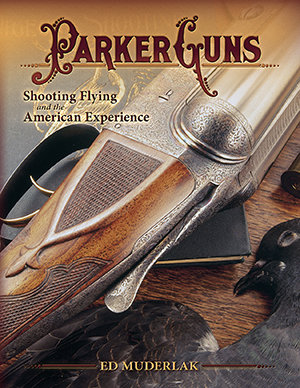 Parker Guns: Shooting Flying and the American Experience is Ed Muderlak's second book devoted to the Parker gun and fourth book on old-time shotgun related subjects. This book explains the evolution of sport hunting with a shotgun and how Parker guns fit into the picture. Readers will learn the history of the breech-loading shotgun, the development of the shotgun cartridge, the details of Parker's competitors, the history of live pigeon and trap shooting, and a survey of early shooting literature. Muderlak compares and contrasts the 'Old Reliable' Parker gun with the guns of Ethan Allen, Sylvester Roper, Dan Wesson, Whitney Arms, N. R. Davis, Boyd & Tyler, Dr. Maynard, E. Remington-Whitmore, William Baker, George H. Fox, Ansley H. Fox, Colt, and Winchester. The book is richly illustrated with 500 photographs, 300 of them being color, plus a fine selection of historic black and white photos and a wealth of nineteenth century prints and advertisements. One appendix even has a price inflation calculator (1810-2006) and dated serial numbers. It's a must-have for any American shotgun enthusiast.
Dealer accepts: PayPal
Shipping: Negotiated with Seller
Items Similar To "Parker Guns Shooting Flying and the American Experience"