Pan American World Airways - Issued during WWll - Early Vignette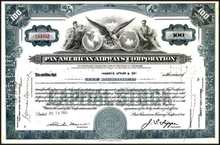 Click thumbnails for expanded view.

$34.95

---

Item Not Available
Beautifully engraved Early Stock certificate in excellent condition from Pan American Airways issued from 1940 - 1943. The vignette shows 2 partially clothed men holding the two globes topped by an eagle. This certificate has the printed signature of the company's founder, Juan Trippe who was the President. These certificates were printed by the American Banknote Company and are over 59 years old.
Certificate Vignette The name Pan Am is truly synonomous with aviation. For over 60 years it pioneered transocean and intercontinental flying. It was the launch platform for aircraft types that set the standard by which all that came later were to be measured. For a period, as the quasi-official "Chosen Instrument", it represented America's commercial aviation policy overseas (and some would even claim it's foreign policy). Without Pan American the world's air transport would surely be different, and even the destinies of some nations would be changed. Pan American World Airways began life in 1927 with a vision, some single engine aircraft and a single route from Key West to Havana. From this beginning came the airline that would literally open the world to aviation. Pan Am launched more new aircraft development than any other airline in history. It pioneered routes across the world's oceans and continents, eventually operating daily flights circling the globe. Then, in 1991 after 64 years of pioneering, Pan Am finally sucumbed to years of crushing financial pressures. Pan Am almost didn't happen Early commercial aviation in the United States was driven by exclusive Air Mail contracts tendered by the Post Office. Juan Trippe, Pan Am's founder, had received the contract for US-Cuba mail service and in order to hold this crucial Air Mail contract, Pan Am had to fly the Key West-Havana mail route no later than October 19, 1927. Unfortunately, the selected aircraft, a Fokker F-7 was not even due to be delivered until September 30th. And, Meacham Field, the new airfield at Key West, was not ready either. But, fate stepped in, as it often did with Pan Am, when it was learned that a single engine Fairchild belonging to West Indian Aerial Express of the Dominican Republic was in Key West awaiting word on a possible hurricane in the Caribbean. For the modest sum of $145.50 this aircraft was chartered by Pan American to fly the mail to Havana. And Pan Am was off and running. Key West lays claim to the original home of Pan Am, but it was chosen primarily because it was within the practical operating range of the aircraft of the day. With the eventual arrival of the longer range Fokker F-10 Trimotors, Key West's location no longer served an overriding need and the company's operations were moved to Miami. A Mexican Adventure In July, 1921 Compania Mexicana de Transportacion (CMTA) was established by two Americans living in Mexico. Originally intended to fly a route from Mexico City to the US border, the owners soon realized that a much more lucrative use was to serve the new oil fields around Tampico. The booming oil business soon spawned other airlines, including Compania Mexicana de Aviation (CMA), now known as Mexicana, which eventually purchased CMTA. In January 1929, the US Post Office advertised for bids on a foreign air mail contract from the US to Mexico City. Pan American was the successful bidder and immediately proceeded to purchase the entire assets of Mexicana. The F-10 Trimotors saw service with the Mexican subsidiaries Around the Caribbean Additional growth came in the Caribbean through the winning of other Post Office mail contracts. Early 1929 saw additional routes throught Cuba and Hispaniola to Puerto Rico. At the same time, in Central America, routes were being extended from Mexico to Panama. Later in 1929, routes were added to Cartagena and Mariacaibo in South America, and the islands as far south as Port-of-Spain and to then to Paramaribo. The Caribbean loop was closed in 1930 and 1931 with the addition of routes to Curacao and Maracay. Early route surveys of this area had been conducted for Pan Am by Charles Lindbergh. Although Lindbergh favored landplanes, it was clear to him that amphibians were better suited to the undeveloped nature of the region. Trippe contracted Igor Sikorsky for a number of the as yet unproven S-38, a twin engine 8 seat aircraft. Eventually, Pan American would operate 38 of these airplanes, either directly or through subsidiaries in Latin America and China. The Pan American Grace Era The shortest route to Buenos Aires, Trippe's ultimate objective in South America, was down the west coast. But the way was blocked by the W.R. Grace Corporation, a powerful American trading company operating from Panama to Santiago. Grace's power often rivaled, and may have exceeded, the power of many of the governments where it operated. So Trippe tried to outflank Grace by creating or acquiring new rights. Trippe acquired a half-interest in Peruvian Airways, conveniently established just 12 days earlier by an American owned aerial crop dusting firm that had already acquired Peruvian air traffic rights. Several months later, the permits were fully acquired by Trippe. To further pressure Grace, toward the end of December, 1928, Chilean Airways was founded but never operated. The combination of Peruvian and Chilean air rights soon pressured Grace to compromise and in January, 1929 Pan American-Grace Corporation (PANAGRA) was organized. PANAGRA quickly extended its operation, eventually reaching Buenos Aires later in 1929. Although constantly troubled at the Board of Directors level, it nonetheless was a very successful airline operation. PANAGRA continued this success for many years and was eventually sold to Braniff in 1968 The East Coast of South America Co
Fairfax, Virginia
Seller Since 1995

---
Payments Accepted:
Item Details:
Category
Coins & Currency
Dimensions
Width: 0 inch
Height: 0 inch
Depth: 0 inch
Weight: 0 pound
Condition
See Description
Items Similar To "Pan American World Airways - Issued during WWll - Early Vignette"