Oatman United Gold Mining Company - Arizona 1929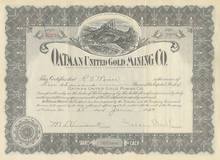 Click thumbnails for expanded view.

$79.95

---

Item Not Available
Beautifully engraved Certificate from the famous Oatman United Gold Mining Company issued in 1929. This historic document has an ornate border around it with a vignette of a mining camp with a large mountain in the background. This item is hand signed by the company's president, Gordon Booth, and is over 71 years old. When you pass the guardian Boundary Cone you enter a grotesque, colorful, violently broken volcanic landscape riddled with old gold mines. Boundary Cone Road joins Route 66 at mile 23. For the next 12 miles it's one curve after another. If you rode up over the open desert, the first curves come up and tighten surprisingly fast. "Deadman's Curve" doesn't look like much, but it's still earning its name. An oil stain in the westbound lane marks a fatal head-on collision between two Harleys during the '97 River Run. 200 yards past the curve, the road cuts through a gold-bearing vein. A few buildings there are what's left of the town of Old Trails. An old-fashioned back road antique shop is in the low white building on the left, full of baffling old tools, books, and sometimes a bargain or two. The curving road beyond is lined with abandoned claims and old mines. Once a hive of cursing, blasting hard rock mining, all that's left are silent open shafts, and half-burnt shacks. Oatman's red light district, Camp 49, was over the low hill across the wash. The shacks and cabins come closer together near town. A million tons of pulverized ore lies on the right. Up above, a jagged rock fang the color of old ivory stands sharp against the blue sky. The "Elephant's Tooth" flagged the old-time desert rats in to the dance halls and watering holes of Oatman. The road drops down to cross the wash. On your right are the foundations of the Tom Reed ore mill. On your left, a craggy rock wall rises up from the sands. It's a part of the vein that carried much of the 60-odd tons of gold recovered here back when Oatman was a thriving gold-rush boom town. Riding up out of the wash you'll find yourself in an open plaza looking up Main Street. Park anywhere. It's a small town, and your gear is reasonably safe. Oatman has no police, but for some reason sneak-thieves are very scarce. So relax, stretch your legs, and take a walk around. Oatman today is a tourist town. The main street is lined solid with shops and restaurants. Wandering wild burros thread through the crowds, looking for treats and a soft touch. Shots are fired twice a day when the Oatman Ghostriders pour into the middle of Main Street for a blazing six-gun shootout. It's all fun, but behind it all Oatman is a genuine relic of the American Wild West. 1860s PROSPECTOR John Moss, with a Mohave Indian; and tunnels in the Moss vein. These mountains were first prospected during the Civil War, when California volunteers were stationed at Fort Mojave to guard the river against Johnny Reb. Most of the garrison had been prospectors in California, and they caught the scent of gold here. In 1863 mountain man John Moss struck it rich three miles north of Oatman, taking $250,000 in gold from his surface diggings before selling out and heading for the bright lights of Denver and Frisco. Some say Moss owed his luck to his friendship with the Indians; in any event, the war ended and the garrison was disbanded before anyone else could make their lucky strike. Sporadic Indian wars kept lone whites out of the area for the next thirty years. In the 1890s prospectors began drifting back into the River Range. Strikes were made, but only the richest lodes could be worked at a profit; this country was too rough and remote for anything but pick, shovel, and dynamite. In May 1900, a 64-year old Mexican prospecting on a $12 grubstake found the Gold Road bonanza just a few hundred yards off the main trail through the mountains. Old Jose's ore was worth $800 a ton, and the rush was on. Mining men scoured every crag and canyon in the range and made one strike after another. The ground around Oatman, a volcanic collapse zone, is riven with interconnecting faults filled with gold-bearing veins, and here the gold-fever burned hottest. Soon the rough camp on the Tom Reed vein became a town of over 10,000 souls, all called to Oatman gold. Shafts 800 and 1,000 feet deep were dug in the town itself, and a rich strike on the north end of town set off another wildcat rush in 1915. Trading in Oatman mines was so hot the town had its own stock exchange in a two-story brick building beside the exposed vein. The pace began to slow in the '20s. The United Eastern mine, across from the old schoolhouse, closed in 1921 after six years of rich digging that gave its investors back 16 tons of gold. Other mines played out. The Great Depression made development capital hard to raise. Finally, in 1942 the federal government declared gold mining non-essential to the war effort and all the mines were closed. With its main reason for existing suddenly gone, a town that was world famous just a few years before slid toward ragged poverty. Oatman was kept alive a few years longer serving traffic on Route 66, but in 1954 even that plug was pulled when the old highway was re-routed around the south end of the range. That day more people gave up and left. But even though the population dropped to 40 at one point, there were still four saloons in town. The town's just too lively to die!
Fairfax, Virginia
Seller Since 1995

---
Payments Accepted:
Item Details:
Category
Coins & Currency
Dimensions
Width: 0 inch
Height: 0 inch
Depth: 0 inch
Weight: 0 pound
Condition
See Description
Items Similar To "Oatman United Gold Mining Company - Arizona 1929"