New Jersey Junction Railroad $1,000 Bond signed by J.P. Morgan 1886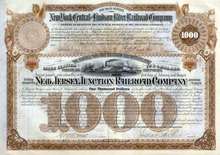 Click thumbnails for expanded view.

Beautifully engraved Certificate from the New Jersey Junction Railroad issued in 1886 and was due in 1996. This historic document was printed by the American Banknote Company and has an ornate border around it with a vignettes of an old harbor scene and a paddle wheeler going up the river. This item is hand signed by the company's officers including J.P. Morgan and H. C. Fahnestock on the verso as Trustees. EF+ Condition. This extraordinary item is over 117 years old and has over 192 unused coupons attached. J. P. Morgan controlled many railroads, shipping companies, insurance businesses and numerous banks and in 1901 Formed US Steel Corporation He single-handedly saved the United States from bankruptcy on two occasions, but was often accused of being a monopolist. He wielded as much power as the president and turned Wall Street into his personal playground. John Pierpont Morgan had an aptitude for acquisition. He assembled one of America`s largest fortunes and purchased an art collection to rival any in the world. Morgan once brokered an agreement between two competing railroads by inviting both presidents for a cruise on his yacht (Corsair)and refusing to let them off until they came to terms! John Pierpont Morgan, the son of a successful financier, was born on 17th April, 1837. Educated in Boston and Germany, he trained as an accountant at the New York banking firm of Duncan, Sherman and Company. In 1867, Morgan transferred to his father's banking company and ten years later became a partner in Drexel, Morgan and Company. This was reorganized as J. P. Morgan and Company in 1895, making it one of the most important banking houses in the world. In 1891 Morgan arranged the merger of Edison General Electric and Thompson-Houson Electric Company to form General Electric, which then became the country's main electrical-equipment manufacturing company. After financing the creation of the Federal Steel Company he joined with Henry Frick to merge it with Carnegie Steel Company to form the United States Steel Corporation. Morgan had good links with the London financial world and was able to arrange the capital for growing industrial corporations in the United States with money from British bankers. This enabled Morgan to become a member of the board of directors in several of these companies including most of the major railroad companies. By 1902 Morgan controlled over 5,000 miles (8,000 km) of American railroads. In his final years, Morgan concentrated on gaining control of various banks and insurance companies. This in turn gave him influence over most of the nation's main corporations. Some muckraking journalists began to criticize the enormous power that Morgan now had. John Pierpont Morgan died on 31st March, 1913.

Certificate Vignette

Signatures
Verso Certificate Vignette 1838 American businessman George Peabody opens a London merchant banking firm, establishing the roots of the House of Morgan. 1854 Junius S. Morgan, descendant of a New England family of merchants, becomes Peabody's partner, eventually taking over the firm in 1864 and naming it J.S. Morgan & Co. Junius S. Morgan 1813-1890 1861 Junius's 24-year-old son, J. Pierpont Morgan, establishes J.P. Morgan & Co., which initially serves as a New York sales and distribution office for the European securities underwritten by his father's firm. J. Pierpont Morgan 1837-1913 1868 The Paris banking firm Drexel, Harjes & Co. is formed. Pierpont becomes a partner in 1871, and the firm is later renamed Morgan, Harjes & Co. Pierpont (right) and Henry Herman Harjes, senior partners of Morgan, Harjes & Co., the Paris banking firm instrumental in securing loans for the Allies during World War I. 1895 Five years after his father's death, Pierpont consolidates the family's banking interests, assuming the role of senior partner in each of four related firms in New York, Philadelphia, London, and Paris. 1910 The London investment banking firm Morgan, Grenfell & Co. is formed, replacing J.S. Morgan & Co. as the British arm of the Morgan network. 1913 Pierpont dies; his son, J.P. (Jack) Morgan Jr., becomes the firm's senior partner. Construction begins on Morgan's new Italian Renaissance-style headquarters building at 23 Wall Street in New York City's financial district. Harris C. Fahnestock was born in Harrisburg, Pa. in 1836. He left school at 16, worked in his father's store for a time but soon became a bank teller. Subsequently, he joined a brokerage firm in Philadelphia and became a partner in 1881. William Fahnestock (son of Harris C.) at the age of 16 began his career as a clerk in his father's bank. On May 10, 1881, William founded Fahnestock & Co. The first Fahnestock & Co. office was located on the fifth floor of the First National Bank building at Two Wall Street, in New York City. Later, William Fahnestock, Jr. became a partner in the company and, upon the death of the founder in 1936, succeeded his father as Senior Partner. During the Great Depression, Fahnestock & Co. opened three offices and acquired another prestigious brokerage firm (1937) in anticipation of an economic resurgence. Fahnestock steadily expanded during the late 1940's and 1950's. During the 1930's, the firm was at its performance peak as a partnership. By 1968 it had representations in 31 U.S. communities and in 10 foreign countries. In May 1985, 104 years after its founding, Fahnestock & Co. announced it was being acq
Fairfax, Virginia
Seller Since 1995

---
Payments Accepted:
Item Details:
Category
Coins & Currency
Dimensions
Width: 0 inch
Height: 0 inch
Depth: 0 inch
Weight: 0 pound
Condition
See Description
Items Similar To "New Jersey Junction Railroad $1,000 Bond signed by J.P. Morgan 1886"