Myers Sweet Rose Butter Wrappers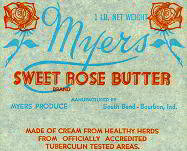 $6.95
Quantity available: 50
You get 5 vintage 11" tall Myers Sweet Rose Butter wrappers. Marked "Made of cream from officially accredited tuberculin tested areas". This sort of accreditation was done in the 1920s and 30s, so these are from that time period. This was done because a study published in 1924 by eminent scientists of the day showed that 25% - 77% of the cows tested in the Chicago area tested positive for tuberculosis. They concluded that pasteurization did not kill the tuberculosis spore and that "that milk, even though pasteurized, should be obtained only from cows free from tuberculosis, and that pasteurization and tuberculin testing of dairy cattle should go forward". Cattle that tested positive were slaughtered and by the late 1930s tuberculosis was pretty much gone from the cattle population. During the 1920s and 30s, if you wanted to sell dairy products, you needed to let people know that it only came from tuberculosis free cows. These are in excellent unused condition and an interesting piece of history.
Oakland Gdns, New York
Seller Since 2000
Dealer accepts: Check, Cash, Authorize.Net, Money Order
Shipping: $4.00
Items Similar To "Myers Sweet Rose Butter Wrappers"