Millinery Flower Stamens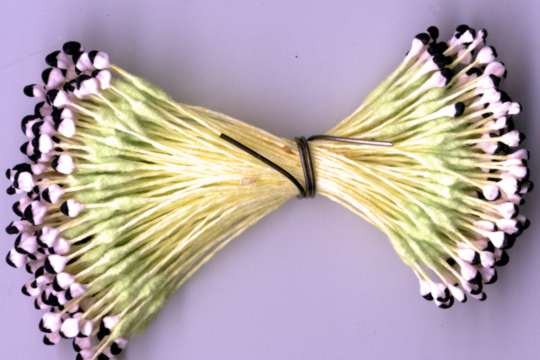 $22.95
Quantity available: 11
Vintage Millinery Flower Stamens - Black-White & Lime -- We love vintage and these are over half a century old! These are not reproductions, but original bundles of vintage stamens that were originally used for making millinery flowers. They are in tremendously good condition. They were made by hand years ago, with the precision of an artist. The stems, or filaments are made of thread that has been stiffened either by water and twisting or with wax. The anthers (tips) are made of different materials that have become to be known as composition. Flower stamens are not just for flowers anymore. They make great embellishments for all types of artwork and collage jewelry. This little bundle includes approximately 144 tips (one tip on each side of each stem) on matte not-quite-white stems. Each stem boasts two tips. From tip to tip, one piece measures about 3 inches. Tips are tiny - just about 1/8 inch long. The ends are black/purple - but closer to black on top of white. The stems vary from pale yellow to lime.
Oakland Gdns, New York
Seller Since 2000
Dealer accepts: Authorize.Net, Money Order, Cash, Check
Shipping: $6.95
Items Similar To "Millinery Flower Stamens"