MICKEY MANTLE New York Yankee Hall of Fame Great - Original1992 Magnum Comic Magazine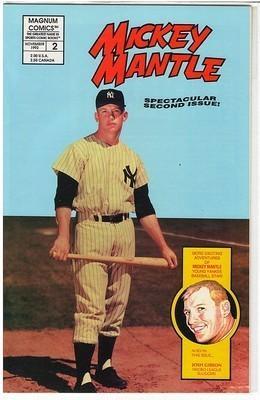 MICKEY MANTLE New York Yankees Star, original 1992 production, NOT a later reprint. Magnum Comic, Super nice inside and out.
Mickey Charles Mantle was born in Spavinaw, Oklahoma, on October 20, 1931, the son of a minor-league player who never made it to the big leagues and named him after Major Leaguer Mickey Cochrane, Mickey's father and grandfather--who also never made it to the majors--taught him how to play baseball, but more importantly also taught him how to be a switch-hitter.

Mickey grew up during the Great Depression, which hit Oklahoma especially hard. Times were so tough that the only way to play sports as a kid was to play with friends; there were no organized leagues around back then. It was while playing baseball with his friends that Mickey's astonishing talent for baseball made itself evident. When he got into high school he played baseball, basketball and football and excelled at all three, and some thought that he would become a football player when he grew up, but Mickey had known what he wanted to be since the age of five: a baseball player, and nothing else. A devastating knee injury almost ruined his chances of getting into that, or any other, sport and would be the beginning of the knee problems that would plague him all through his career.

He was drafted into the minors at the age of 18, and while in the Yankee farm system his astounding talent was so obvious that he was jumped from the Class C division directly to the Yankee team itself. When he got there he was given #6, because Yankee management thought he would be the next "superstar" and in line with the other Yankee greats. Mick didn't do well, however, and was sent back down to the minors. After a couple of lackluster games he told his dad he was going to quit, but after giving it some thought, he stayed and soon began to hit again. He was recalled back to the Yankee team (and given #7 this time), and that was when the Mickey Mantle of legend was born. He started in right field before DiMaggio left. During the 1951 World Series Mickey stepped into a water drain in the outfield, a serious injury that affected his playing for the rest of his career.

In his 18-year career he set, and broke, numerous records and, as he himself has said, if he had taken better care of himself, he would have broken every record in the book. Mostly all of his home runs were hit while he was injured. He once hit a home run with one arm, and even hit them while he was half-drunk and hung over. In his later years he came to regret the chances he had and missed because of his penchant for drinking and partying. He even made a public service message to the kids who idolized him, recounting the kinds of things he had done and the mistakes he had made, and telling them, "Don't be like me." It's doubtful if there ever CAN be anyone like him; someone like Mickey Mantle comes along only once in a lifetime. He died August 13, 1995 at the age of 64.
FREE SHIPPING IN THE CONTINENTAL 48 US STATES ONLY.
Pay with Pay Pal or use most major credit cards to pay securely through Pay Pal. We also accept Personal Checks, Bank Checks or Money Orders.
We Combine Shipping and Ship with Free delivery confirmation ... So be sure to check out our other interesting items.
Dealer accepts: Money Order, Check, PayPal
Shipping: Free Shipping
Items Similar To "MICKEY MANTLE New York Yankee Hall of Fame Great - Original1992 ..."