Mesa Petroleum Co. - T. Boone Pickens as President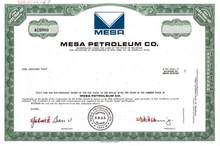 Click thumbnails for expanded view.

Beautifully engraved SPECIMEN certificate from the Mesa Petroleum Co. This historic document was printed by the American Banknote Company and has an ornate border around it with a vignette of the company logo. This item has the printed signatures of the Company's President, T. Boone Pickens.
Certificate Vignette MESA PETROLEUM CORPORATION. Mesa Petroleum, also known as Mesa Limited Partnership, the nation's largest independent producer of domestic oil and gas and one of its largest gas producers, is a publicly held corporation with headquarters in Dallas and offices in Amarillo, Fort Worth, and Las Colinas. (Independent operators are distinguished from major oil companies primarily by their smaller size and lack of vertical integration.) It was founded by Thomas Boone Pickens, the son of a landman, a person whose job is to find landowners willing to lease mineral rights and then sell their leases to oil companies. Pickens was born on May 22, 1928, in Holdenville, Oklahoma, moved to Amarillo while in high school, attended Texas A&M for a year, and received his geology degree from Oklahoma A&M in 1951. After working as a roughneck and in a refinery, he became a geologist for Phillips Petroleum, but difficulties in dealing with company bureaucracy forced him to resign in 1954 and start out on his own. For two years Pickens was self-employed in well-site and consulting work. He founded the company that became Mesa Petroleum in 1956, when he entered into a partnership known as Petroleum Exploration, Incorporated, with Eugene McCartt and John O'Brien, his wife's uncle. McCartt and O'Brien owned quarter interests and supplied a line of credit that enabled work on bigger ventures, while Pickens owned the remaining half and served as president. In its early deals, PEI made money by selling prospects it had discovered and retaining a "back-in interest" or percentage of the profits made by the well in its first few years. Eventually, the firm attracted a group of Amarillo investors who allowed it to drill its own wells, and in 1958 PEI discovered eight gas and one oil well in sixteen tries. In 1959, with the help of PEI investors, Pickens formed Altair Oil and Gas Company to explore for oil in Canada, once again serving as president and major stockholder. In 1960 the company acquired a Utah mining company, Standard Gilsonite, and in 1962 PEI drilled ninety-eight successful wells and made more than $750,000 in profits. Company employees increased from two to twenty-three, and investors to nearly 300. In 1963, when McCartt wished to sell his share in the company, Pickens and PEI lacked sufficient money to buy him out. PEI signed a three year note with McCartt to pay him for his interest in the company. McCartt threatened to take over the company when it almost defaulted on its payments, a situation avoided in 1964 when Pickens led the company in an initial public offering to raise capital. At the same time, Pickens renamed the company Mesa Petroleum for "the picturesque, table-topped lands that rise out of the Texas Panhandle." In this process, Mesa combined the properties of Altair and PEI, and acquired 239 stockholders from the two original firms. In its first year, Mesa produced revenues of $1.5 million and a net income of $435,310. The company grew steadily, and by 1968 had revenues of $6.2 million, profits of $1.4 million, and stock traded on the American Stock Exchange. Mesa's fame initially developed from its acquisitions. In early 1968, Pickens targeted the Hugoton Production Company of Garden City, Kansas, for a possible merger. Hugoton owned a substantial portion of the Hugoton gas field in southwestern Kansas, then the nation's largest gas field. When the Hugoton management rebuffed Pickens's offer, Mesa introduced a hostile tender offer that would give Hugoton shareholders 1.8 shares of Mesa's common stock for every share of Hugoton's. Because Pickens was not yet forty years old and his company was the smaller of the two, Hugoton's management and board of directors failed to take him seriously. In 1969, however, Mesa acquired nearly one-third of Hugoton's shares, and in April stockholders of both companies approved the merger. Hugoton assets gave Mesa the leverage it needed to expand its business and complete bigger deals. Shortly after completing the Hugoton deal, Pickens diversified with the purchase of the Swisher County Cattle Company and the Harmon and Toles Grain Company, a cattle-feeding operation in Hutchinson County, Texas. He also acquired Randall County Feed Yard, and began to increase the capacity in its yards. Within three years, Mesa was the second largest cattle feeder in the country, with the capacity to feed more than 160,000 cattle. By 1973 the firm also owned more than 150,000 head of cattle. Cash flow from cattle operations enabled Mesa get into offshore exploration, but the cattle industry experienced a downturn in 1973. Despite Pickens's efforts to hedge his cattle, the diversification effort ultimately failed and Mesa sold its cattle operations at a substantial loss. Mesa's next attempt at diversification linked it with a company closer to its line of business and with sizable oilfield reserves. Its offer to Southland Royalty Company of Fort Worth was terminated after the Southland management waged a successful legal battle against Mesa. In 1970, Mesa acquired Pubco Petroleum, based in Albuquerque, New Mexico, as well as undeveloped acreage and personnel that produced an aggressive rate of growth. In 1972 Mesa reported $92 million in revenues, $15 million in profits, and $189 million in assets. In 1976 the company discovered the largest field in its history in the North Sea. The Beatrice Field, named for Pickens's wife, netted the company a $31.2 million profit before Mesa sold it to the British National Oil Company, established by the British Labor Party. Faced with governm
Fairfax, Virginia
Seller Since 1995

---
Payments Accepted:
Item Details:
Category
Coins & Currency
Dimensions
Width: 0 inch
Height: 0 inch
Depth: 0 inch
Weight: 0 pound
Condition
See Description
Items Similar To "Mesa Petroleum Co. - T. Boone Pickens as President"