Mel Hunter S/N Lithograph, Holiday at Sky Farm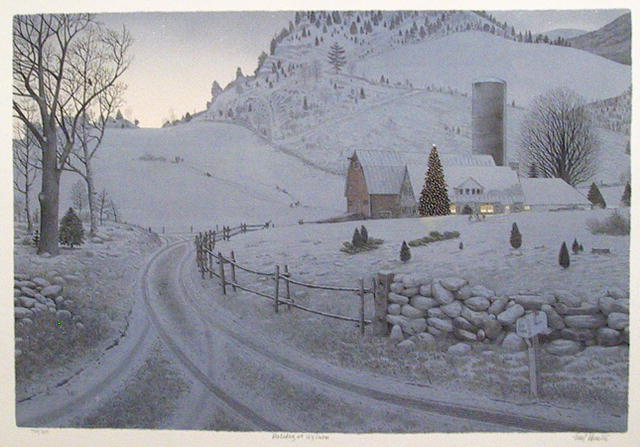 Artist: Mel Hunter
Title: Holiday at Sky Farm
Year: 1994
Medium: Lithograph [signed and numbered in pencil]
Edition: 774/950
Paper Size: 19" x 26"


MEL HUNTER (1927 - 2004)

In the more than twenty years since Mel has decide to devote all his efforts to making original lithographs, he has produced more than 150 editions, many of them very large images. This large body of work represents retail sales to collectors in millions of dollars, a fair indication that his work is positioned squarely in the mainstream.

Mel began as a magazine and book illustrator , his first major cover idea was sold to Galaxy magazine. Science fiction quickly moved to science, as he was accepted by Northrop Aircraft as a specialized concept illustrator, painting advanced interceptors and pilotless bombers for Pentagon evaluation. He later free-lanced, producing thousands of drawings and paintings for major publications such as National Geographic, Life, Collier's Newsweek, Encyclopedia Americana and many of the Time-Life books.

In 1967 he moved his home to a farmhouse in rural Vermont, and began painting and drawing the land, the animals and birds upon it and the changing seasons of the semi-wilderness which surrounded him. There followed a lovely group of more than 150 watercolours of his series "Birds of the Northeast", all of which sold through the galleries of Abercrombie and Fitch of New York.

In 1971, he began the first of his now more than 150 editions of original graphics. At first Mel worked in the traditional methods of stone lithography but after an accident ruined a beautiful image, he began to develop his now well-known Mylar lithographic technique. In 1977 Mel published an article in American Artist magazine entitled "Revolution in Hand-drawn Lithography". This article caused quite a stir within the tight little printmaking community over the sanctity of the old traditional methods versus the versatility and reliability of the new.

With his subsequent publication of "The New Lithography: The Mylar Method Manifesto", a joint public statement by six major printmaking artists, including Jamie Wyeth and Lowell Nesbitt and with supporting statements by Burr Millar, owner of Geo. C. Miller and Son and by Maura Giufreda, Master Printer of the American Atelier, the debate came to an abrupt end. Today, artists all over the world use the Mylar method.

From 1974 to present, Mel hunter has produced more than eighty-five new editions using these advanced methods. And he has acted as Master Printer in printing nearly two hundred important editions for other printmaking artists. In 1984, his seminal textbook on the subject, "The New Lithography" was published in hard cover by Van Nostrand Reinhold, and is now a collector's item.
Dealer accepts: Check, Authorize.Net, PayPal, Cash
Shipping: Negotiated with Seller
Items Similar To "Mel Hunter S/N Lithograph, Holiday at Sky Farm"