Max Flandorfer Plein Air Painter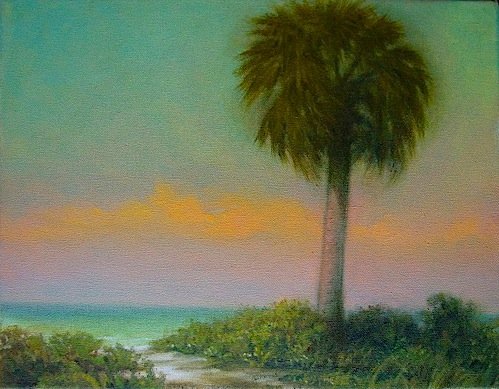 Plein air painting of the Florida Gulf Coast "Late Day at the Beach" 11" X 14" oil on canvas in a carved gold frame included. Carmel California Gifted Pleine Aire artist Max Flandorfer is an inspired California Painter in the tradition of Granville Redmond, Maurice Braun, Guiseppe Cadennaso, yet distinctively his own. His images evoke that timeless sense of beauty in nature. An inspired and dedicated artist; a Max Flandorfer original will brighten up your home. Max Flandorfer is a Florida boy at heart; the Gulf Coast and the Everglades are his passion, having migrated to California 20+ years ago his roots are steeped in the Florida outdoor traditions. While visiting his Mother, on the Gulf Coast of Ocean Springs Mississippi, Max watched the water flood in from the sea reaching 9 feet up the stairs to the upper floors. Max and his Mom were ready to jump into the waves and swim for it but luckily the water receded. He is Staying for a while in Mississippi to reflect on the power and beauty of nature and his place within. These are his first paintings since leaving California. After Katrina, Max traveled the Gulf Coast looking for a time without the Storm Clouds he remembers; he has found a bit of peace and beauty he remembers before Katrina. Flat rate shipping $18.00 US.
Items Similar To "Max Flandorfer Plein Air Painter"
Dealer accepts: Money Order, PayPal
Shipping: $18.00