"Madam Bjanka" original oil painting of Francois Mathieu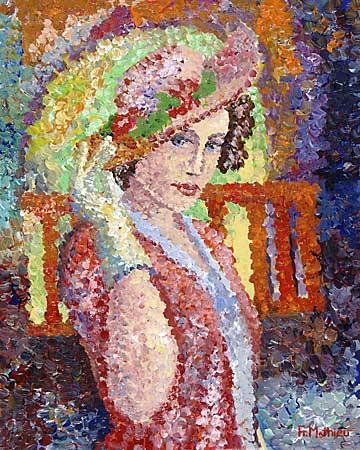 Original painting "Madam Bjanka" in pointillism style of French artist Francois Mathieu.
Oil on canvas 16x20in (41x51cm) Painting will be delivered into beautiful frame in protective packing. Shipping is free through express mail.
About Francois Mathieu (1962 - 2007):
The French artist Francois Mathieu has created brilliant works in pointillism style. The artist is the continuer of old French school and such masters as Georges Seurat and Paul Signac. Today practically no one from artists does not draw in pointillism style, because of complexity of art technics.
Especially, it is necessary to notice, that the artist has gone much further than the eminent predecessors. His paintings are much more saturated by a life than paintings, for example, by Seurat. Seurat as however Signac, could not overcome up to the end in they paintings the certain static character, inherent of this technique. Francois Mathieu breaks this barrier with success, his paintings are brighter and colourful, figures in his pictures are more lively and realistic. And we can enjoy the sound of force of his paintings without any discounts for features of complexity of this art technique. It is possible to tell that Mathieu is the first of artists pointillists has completely overcome all restrictions imposed by this extremely difficult technique.
The life of the artist was short, but bright as a shining tail of a comet. He was born in France, and has died in India. It has been written in its last note: «I have made everything that I wanted, I have gone further...»
Looking at his paintings, it is possible to agree with him only in one - that he has splashed out the sea of vital energy on his pictures. His paintings exhale love to a life and pleasure of life. All of them are charged very positively emotionally.
Francois Mathieu has left many series of fine canvases: the gentle female portraits, the small streets of old French cities filled with the sun, magnificent flower still-lifes and landscapes with emerald greens and the azure sea. All these genres are presented in our gallery. His paintings are well suited for decoration of country houses and city apartments, corporate and bank collections.
You can look at this original painting in our Gallery-2000.com
NY, NY,
Seller Since 1999
Dealer accepts: 2Checkout, Cash, PayPal
Shipping: USPS Priority Mail