Lot of 5 - 1894-S Barber Dime Silver Coins - Replica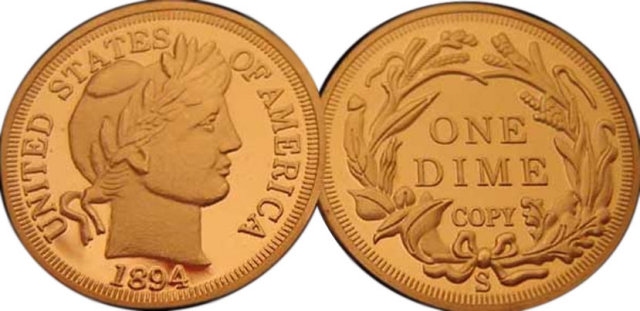 * MINT LOT OF FIVE (5) 1894-S BARBER DIME BRILLIANT GALLERY PROOF SILVER REPLICA COINS * THESE BEAUTIFUL PROOFS ARE EXACT SIZE JUST LIKE ORIGINAL * .999 pure silver layered * 17.9mm diameter * Individually struck proof. 1894-S BARBER DIME HISTORY: The Barber Dime was designed by Charles E. Barber. Charles Barber was the chief engraver at the United States and designed not only the Barber Dime, but the Barber Quarter and Half as well. His initials B is located a thte base of Liberty's neck on the obverse of the coin. The orginal specifications for the barber dime were a weight of 2.5 grams, a diameter of 17.9 mm, and a composition of 90% silver and 10% copper. The Barber Dime was minted in Philadelphia, Denver, New Orleans, and San Francisco from the years 1892 - 1916. A genuine 1894-S Barber Dime in similar condition would sell for over $2,000,000. These commemorative coins come in airtight removable plastic protectors. All our replica coins, reproduction coins, or copy coins comply with the US Hobby Protection Act - 15USC-2101 regarding the sale and manufacture of reproduction coins. Unless stated as .999 silver replica coins, all gold and silver reproduction coins are plated. All our reproduction coins, replica coins, and/or copy coins are non-monetary.
Items Similar To "Lot of 5 - 1894-S Barber Dime Silver Coins - Replica"
Beverly Hills, California
Dealer accepts: PayPal, Money Order
Shipping: $4.95