Lot of 100 - 1870 CC $20 Liberty Double Eagle Gold Coins - Replica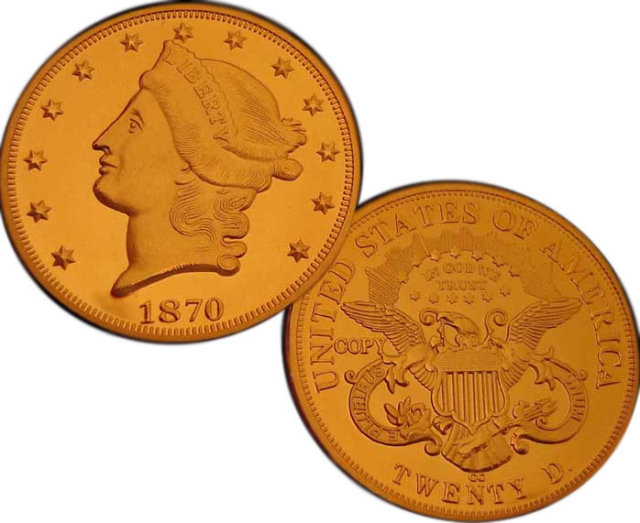 * MINT LOT OF ONE HUNDRED (100) 1870 CC $20 LIBERTY DOUBLE EAGLE BRILLIANT GALLERY PROOF GOLD REPLICA COINS * THESE BEAUTIFUL COINS ARE EXACT SIZE JUST LIKE ORIGINAL * LAYERED IN 24 KARAT GOLD * Specifications: .999 - 24 karat gold layered; 34mm diameter * Individually struck proof. 1870 CC $20 LIBERTY DOUBLE EAGLE GOLD COIN HISTORY: This coin consists of the largest denomination of all United States issued gold pieces. The first $20 Liberty Double Eagle coins were minted during the years of the California Gold Rush. Only ONE original $20 Gold Liberty Double Eagle gold piece bearing the date 1849 was minted. This coin is held in the Smithsonian Museum in Washington D.C. The Liberty Double Eagle was designed by Chief Engraver James B. Longacre, with Lady Liberty modeled after an ancient Greco-Roman sculpture, the Crouching Venus. The reverse of the coin depicts the Great Seal of the United States. These coins come in airtight removable plastic protectors. All our replica coins, reproduction coins, or copy coins comply with the US Hobby Protection Act - 15USC-2101 regarding the sale and manufacture of reproduction coins. Unless stated as .999 silver replica coins, all gold and silver reproduction coins are plated. All our reproduction coins, replica coins, and/or copy coins are non-monetary.
Items Similar To "Lot of 100 - 1870 CC $20 Liberty Double Eagle Gold Coins - Replic..."
Beverly Hills, California
Dealer accepts: Money Order, PayPal
Shipping: $4.95