London Illustrated News 8/17/1872 Stanley and Livingston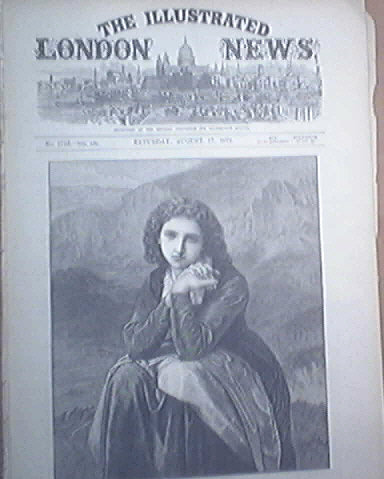 $75.00
Quantity available: 1
The London Illustrated News August 17,1872 No.1719-Vol.LXI Issue with One Supplement issue
Cover: " Mignon Pensive " by W. Bouguereau (beautiful illustration)
Contents:
" An Irish Fair " (article) Mignon Pensive (article) Dr. W. B. Carpenter, F.R.S. (article and illustration) The Autumn Maneuvers (article) The Finding Of Dr. Livingstone: Mr. Stanley And His Retinue In Africa (GREAT Full-page illustration PIC BELOW) BEAUTIFUL Shinny Color illustration: "You Mustn't Touch" from a painting by Mrs. Anderson (missing an inch from page to were corner was almost the whole bottom edge is missing, and a few pieces of right edge)
Supplement:
Cover: Mr. H. M. Stanley Of New York, The Finder Of Dr. Livingstone
Contents:
The Finding Of Dr. Livingstone (article) Wesleyan Church, Toronto (article) The Umritsur Training Institution (article) Completion Of Portland Breakwater (article and illustrations)
and many more fascinating articles, illustations. 146-168.pp. Overall Excellent Condition! The Supplement is NOT connected to issue, it is a seperate issue, but with this issue. Issues are from a bound volume.
Dealer accepts: PayPal, Money Order
Shipping: $5.00
Items Similar To "London Illustrated News 8/17/1872 Stanley and Livingston"