Lloyd Lozes Goff S/N Print, Avignon Bouquet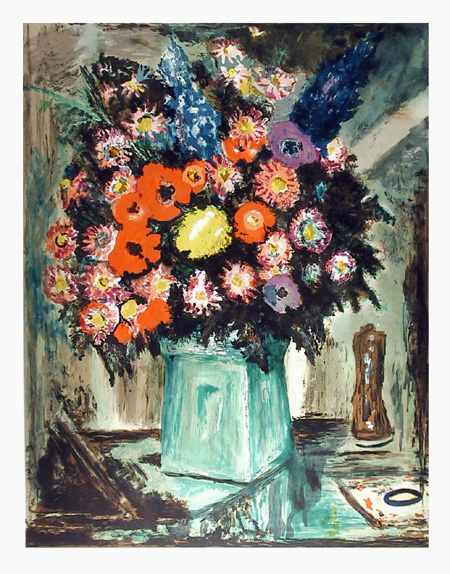 Artist: Goff, Lloyd
Title: Avignon Bouquet
Medium: Lithograph, signed and numbered in pencil
Edition: 250
Paper Size: 23" x 30"
Like most boys raised in the West, Lloyd Goff's favorite childhood game was "Playing Cowboy" and his earliest drawings depict his heroes in boots and spurs. Even his first formal art training was with the trail-driver cowboy turned cattle painter, Frank Reaugh of Oak Cliff, Texas. In spite of a strict regimen of painting and drawing from nature, "the Reaugh trips," annual sketching and camping jaunts were a delight to the boy artist.
"It was on one of these trips when, as the youngest member, I was 'The Kid'" Goff recalls. I was excited by an overnight stay at the famous 'Four Six Ranch,' the 6666, on the Texas Plains. The next day our truck and car caravan crossed into the 'Land of Enchantment' and it was not long until I fell under the spell of this land and loved it. The ardent infatuation lives on more than ever!"
Goff enrolled in the Fine Arts Department of the University of New Mexico after five years as a Schnakenberg Scholarship Student at the Art Student's League of New York, studied at the Academie Juliene, Paris, and spent several years as a Fellow at the Louis Comfort Tiffany Foundation. At the university, he studied with Kenneth Adams and Raymond Jonson, and later taught as Assistant Professor of Art. During his second year of teaching, Goff was Acting Head of the Art Department.
Lloyd Lozes Goff has lived and worked in New York, London and Albuquerque where his studio is a 200-year old adobe ranch house. At home in many climates. Goff approaches landscape with a native's insight, distilling with equal skill atmospheres as divergent as Europe, Africa and the Americas. Far from being prosaic recordings, Goff captures both the spirit and color of many lands.
In his personal philosophy concerning his art, Goff says, "I practice a free flow of feeling about a subject. I am trying to produce an atmosphere, a spirit of the theme. I am not reproducing a scene or object, not copying a subject, but rather making a new creation . . . using whatever subject matter as a springboard, not as an end in itself."
NEW YORK ONE-MAN SHOWS Artz Gallery, 1957,1959 Juster Gallery, 1960, '62, '65 Blondelle Gallery, 1966 Roko Gallery, 1968 Roko Gallery, 1971 Roko Gallery, 1972 Roko Gallery, 1974 GROUP EXHIBITIONS American Academy and Institute of Arts & Letters The Whitney Museum of American Art The Carnegie Institute "Painting In U.S." Annual Exhibit National Academy of Art Pennsylvania Academy of Art Corcoran Museum, Washington, D.C. Dallas Museum of Fine Arts, Dallas, TX. Galeria of Arte Mexicano, Mexico, D.F. Museum of New Mexico, Santa Fe Santa Fe Opera Association, Santa Fe, N.M. Lawrence Galleries, Dallas, TX. Furman Gallery, Farmington, N.M. The New West, Albuquerque, N.M. The Lovelace Medical Cent., Albuquerque, N.M. MURALS Helena Rubinstein, Fiffh Avenue Salon, NYC Garden Mural, Beau Village Restaurant, Greenwich Village, NYC Home Mural, Judge Lindley Miller Estate. Oyster Bay, NY Federal Bldgs. Hollis, OkIa., Cooper, TX Home Mural, John Bush, "Sailtops Farm," Rudgwick, England PERMANENT COLLECTIONS Whitney Museum of American Art Wadsworth Atheneum, Hartford Museum Library of Congress West Point Collection U.S. Military Academy, Berg Collection N.Y. Public Library Yale University Music Collection American Academy of Arts and Letters Syracuse University Collection American Academy of Arts and Letters University of Vermont U.S. Department of the Interior Dallas Museum of Fine Arts Museo de Belles Artes, Mexico PRIVATE COLLECTIONS Helena Rubinstein Betty Parsons Stuyvesant Van Veen Edith Meiser Lucille Ball Philip Ober William Herz, Jr. Vivian Vance Paul Cadmus Katheryn Hurd H.E. Schnakenberg Sidney Presberg
Dealer accepts: Check, Authorize.Net, PayPal, Cash
Shipping: Negotiated with Seller
Items Similar To "Lloyd Lozes Goff S/N Print, Avignon Bouquet"