Leslies Ill.Nws- 2/16/1889 Phonograph,Valentines Day!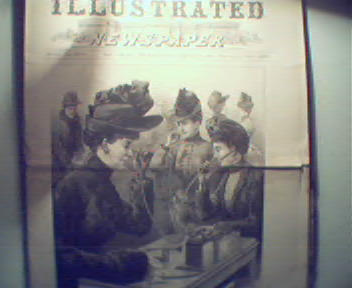 $15.00
Quantity available: 1
Contents Including; Cover is Society Ladys and the Phonograph at St. Valentines Progress in New York City, Signifigant Protests, Americanizing our Immigrants, The Ballot Reform Bill, New Yorks Care of the Insane, Europe in Africa with Illustrations, Pacific Island,s USA and Irish Coercion, Hon.Thomas Burke, Montreal Carnival Both Illustrated, Col.Joseph Breckindridge Inspector and Brig.Gen of US Army, Strike of Feather Workers in New York City, Proof of the Pudding, Death Roll of the Week, Full page illustration of Life Saving Service on Mass. Coast, Sioux City Iowa, Illustrations of Its Buildings, Full Page Illustration of Passing of Oklahoma Bill by the House of Representatives as it was Recieved by Boomers in Kansas, Illustration of Mortuary Chapel in National Cemetary in Wash.DC where Gen.Logans Remains temporarily Deposited, Ruins of Great Fire in Buffalo NY, St. Valentines Day and Its Origin, Great Illustrations-also Ads-Cherry Blossom Soap with Nun in the Ad, Bakers Coco,Sappolio, Cure for the Deaf, Slight wear, some small cracks and chips to edges, Signifigant Protests, cover torn also some pages, Overall Good Condition! [Box 4664] - [Item 120850]
Dealer accepts: Money Order, PayPal
Shipping: $4.50
Items Similar To "Leslies Ill.Nws- 2/16/1889 Phonograph,Valentines Day!"