Leonid Afremov Oil Painting, Romeo & Julliet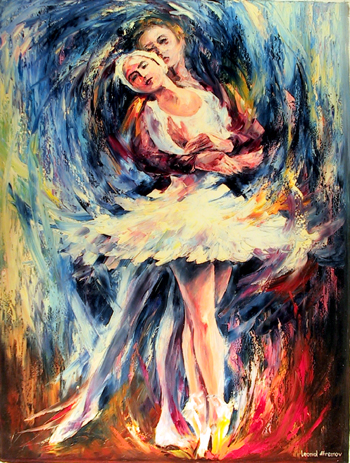 Artist: Leonid Afremov
Title: Romeo and Julliet I
Year: 2001
Medium: Oil on Canvas
Size: 40" x 30"


The artist Leonid Afremov was born in Vitebsk, Belarus in 1955-- the same town where Mark Chagall was born. Leonid Afremov graduated from Vitebsk Art School The school was founded by Mark Chagall in 1921 . Along with Chagall, Malevich and Kandinsky, Leonid Afremov is a member of the famous Vitebsk painting school. Leonid worked a lot and participated in different exhibitions in Vitebsk. Since 1990 he has lived in Israel. The artist has his own unique style. He doesn't use brushes to paint - he uses a palette-knife. Original, light-colored, and gentle style that had been worked out for years is the main distinction of the artist.
List of Exhibitions
Group Exhibitions in Former USSR
1977 Students' Anniversasy Exhibition, Vitebsk 1988 Exhibition of Soviet Artists' Union, Vitebsk 1989 Exhibition of Soviet Artists' Union, Vitebsk 1990 Exhibition of Soviet Artists' Union, Vitebsk 1989 Exhibition of Judaica-based Paintings, Moscow
Group Exhibitions in Israel:
1991 Amaliya Alber Art Gallery 1992 Exhibition of Judaica-based Paintings, Ramat-Gan Museum 1994 Exhibition of Judaica-based Paintings, TeI-Aviv Museum 1997 Anniversasy Exhibition, Ashdod Museum
Personal Exhibitions in Israel:
1991 Arts Center, Ramat-Gan 1993 "Gistadrut" Club, Tel-Aviv 1994 "Lapid" Art Gallery, Ashdod 1995 "Dilon" Art Gallery, Jaffo 1996 "Dilon" Art Gallery, Jaffo 1997 "Beit Opera" Art Gallery, Tei-Aviv 1998 "Belt Opera" Art Gallery, Thl-Aviv 1999 "ofir" Art Gallery, Ramat-Aviv 2000 TeI-Aviv Museum 2001 Ashdol Museum
Dealer accepts: Check, PayPal, Cash, Authorize.Net
Shipping: Negotiated with Seller