Jorge Tarallo, Native American Lithograph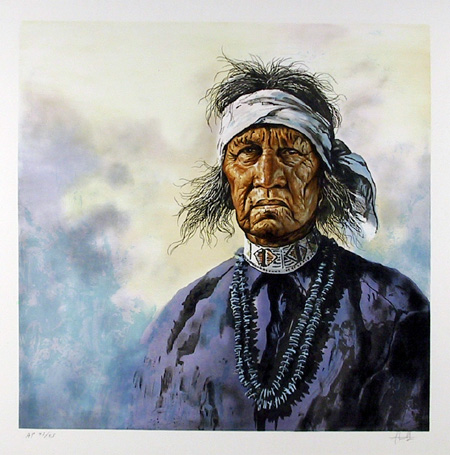 Artist: Jorge Tarallo
Title: Untitled 1
Year: 1980
Medium: Lithograph [Signed and Numbered in Pencil]
Edition: 300
Paper Size: 23" x 24.5"


Jorge "Braun" Tarallo was born in 1951 in Montevideo, Uruguay where he studied at the National Arts School under the direction of the well-known artists Riveiro and Garino.

In 1972, he came to the US to begin his career as a painter. A growing number of collectors have followed his work in gallery exhibitions in Montevideo, Buenos Aires, Sao Paolo, Rio de Janeiro, Paris, New York, Chicago and other American cities.
Jorge Andres Tarallo lives in Montevideo Uruguay where he was born. His Extensive travel throughout South America and the States have brought him close to land. Tarallo paints the majestic southwest of America and faithfully renders the local indians whos culture has alwasy been intrinsically woven into the land. His Love of the land imparts to paintings a magical light which he captures in them lifts the viewer to the lofty heights he portays. In all of his paintings there is a feeling of moisture, depicting the time around sunset when the twilight and dew of evening cling to the land melting into the atmosphere. This is a rather unique departure from the customary dry, dusty, overexaggerated rendering of the Southwest. Tarallo's land pulsates with life and moisture.

Achieving a particular quality of lighting and shadows is a special concentration of Braun's. Critics frequently comment on a Rembrandt influence in his landscapes and seascapes, but Braun describes himself as an impressionist painter concerned with realism.
Braun is married and divides his time between the United States and Uruguay, painting scenes drawn from the two Americas.
Solo Exhibits
2000 Uruguay Republic Bank Museum, Montevideo, Uruguay.
1998 Hurllingham Cultural Center, Hurllingham, Buenos Aires, Argentina.
1992 Vicar House, Montevideo, Uruguay "Aborigenes del Uruguay"
1982-3 Art World Gallery, San Diego, CA, USA.
1983 Anemberg Gallery, Palm Spring, CA, USA.
1981 El Prado Art Gallery, Sedona, CA, USA.
1978 Colores Gallery, Denver, CO, USA.
1973 Olive Tree Art Gallery, Scottsdale, AZ, USA.
Galleries & Exhibits
2003 Atelier de La Barra, Punta del Este - La Barra, Uruguay.
2003-1991 A.D.I. Art Gallery. Montevideo Uruguay.
2003 La Galerie, St. Charles, Illinois , USA.
2003 The May/Danela Galleries, Scottsdale, AZ , USA.
2003 RoGallery, Long Island, NY, USA.
1996-1984 More than 40 Galleries throughout the United States.
1989 Les Marchands D'Art Gallery, Montevideo, Uruguay.
1989 ABC Gallery, Montevideo, Uruguay.
1984 Husberg Fine Art Gallery, Las Vegas, NV , USA.
1982 El Prado Art Gallery, Sedona, CA, USA.
1980 O'Brian Art Emporium, Scottsdale, AZ, USA.
1979 May Gallery, Jackson Hall,Scottsdale, AZ, USA.
1972-1971 Art International Gallery, Chicago, Los Angeles, Denver, San Luis, Scottsdale.
1969 Galleries in New York and Chicago.
1965-68 Galleries in Buenos Aires, Porto Alegre and Montevideo.
Lithograph
1972 Inicia la venta de litobraf'ias de sus obras en los Estados Unidos.
1978 Work with Jorge Dumas, official Litografo de Salvador Dali.
1978 Realiza 5 Litografias de sus obras para Jacks Fine Arts, NY, USA.
Read about
Dealer accepts: Cash, Check, PayPal, Authorize.Net
Shipping: Negotiated with Seller
Items Similar To "Jorge Tarallo, Native American Lithograph"