Jess Tomberlin Smackover Syndicate No. 2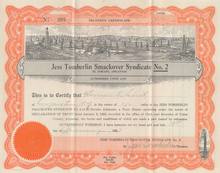 Click thumbnails for expanded view.

Beautifully engraved Certificate from the Jess Tomberlin Smackover Syndicate No. 2 issued in 1923. This historic document has an ornate border around it with a vignette of an oil field. This item is hand signed by the company's trustee and is over 77 years old. Tradition has it the adventurer Matthew F. Rainey became the first resident of El Dorado by accident. Rainey's wagon broke down there in 1843, and being unable to get replacement parts, he held a sale of his possessions. The sale went so well that he bought more goods and opened a store. El Dorado is Spanish for "the gilded one." It is not known if Rainey was responsible for naming his new home in recognition of his good fortune. The name was in use, however, the following year when Union County officials, seeking to move their county seat from the Ouachita River bluff (now Champagnolle), accepted Rainey's donation of 160 acres for the new townsite. In 1851, the town, then one square mile in area, was incorporated. Cotton growers came up the Ouachita River by steamboat and cleared the land for plantations. By 1890, there were 455 people in El Dorado. The 30-year period following this saw El Dorado's population grow to about 4,000 people and the town developed into the agricultural and timber center of South Arkansas. On January 10, 1921, the Bussey Oil Well blew and "black gold" began to flow. In a matter of weeks, El Dorado's population grew to over 20,000 people. El Dorado was transformed from a settled, sleepy little community to a boomtown. By the end of October, about 460 producing wells had been drilled and 10 million barrels of oil had been taken from the area. Recovering from the initial impact of the boom, El Dorado steadied and soon transformed itself from an oil camp into a city which has continued to progress. The city's tree-lined historic downtown with its colorful flower gardens attracts thousand of visitors each year. El Dorado and the Oil Boom What the Gold Rush was to California, the oil boom was to El Dorado. The presence of petroleum under Arkansas soils was reported first in 1887 in Scott County. The oil boom arrived with a bang near El Dorado on June 13, 1920 when the explosion of a test well killed five persons. Then oil came in on January 10, 1921. Trains full of people swarmed to the town, and the population rapidly went from 4,000 to 15,000 and on to 35,000 within a year. Smackover, a mere flag station in 1920, soon had more than 20,000 residents. The chaos broke down the fabric of law and order and other social services. Mules, dying in the streets, were run over where they lay. New Year's Day in 1922 was celebrated by the firing of pistols in the streets instead of the traditional firecrackers; church bells were a favorite target and fourteen persons were killed. Hundreds of other wells were drilled around the state in hopeful imitation. Environmental problems abounded. Oil production was largely unregulated by state or federal authorities until after the Great Depression. With operators free to work as they wished, oil was stored in earthen ponds that sometimes flooded nearby land after rains, killing all vegetation and poisoning the water supply. Lightning occasionally ignited the ponds and evaporation was a problem. In the haste to find oil, natural gas was vented into the atmosphere and irretrievably lost. Primitive and not always honest drilling practices brought less than complete recovery from wells. The first oil boom was short-lived. Arkansas rose to fourth in the United States in oil production in 1924, but output fell by one-fourth in 1926 and prices were less than the cost of production in the Depression, A second boom came in 1937. Drilling to 5,500 feet, twice as deep as in the first wells, led to the opening of the Shuler field. Arkansas' production recovered and remained stable for a number of years. One Arkansas oil man, Thomas Harry Barton, of Lion Oil, became a conspicuous figure in Arkansas political and social life, a lesser rival of Arkansas Power & Light's Harvey Couch. One of America's most colorful oil millionaires, H. L. Hunt, got his start farming, gambling and raising a stake at Lake Village and then in the Arkansas oil fields before moving to Texas. The oil discovered in Arkansas, although of no more than passing importance in the nation's oil history, was highly significant to the poor state. The value of oil at the height of the boom was twenty-four times greater than the capital of all the banks in Arkansas or the total assessed valuation of the state.
Fairfax, Virginia
Seller Since 1995

---
Payments Accepted:
Item Details:
Category
Coins & Currency
Dimensions
Width: 0 inch
Height: 0 inch
Depth: 0 inch
Weight: 0 pound
Condition
See Description