Jack Hofflander, S/N Print, Folk Art, Donkey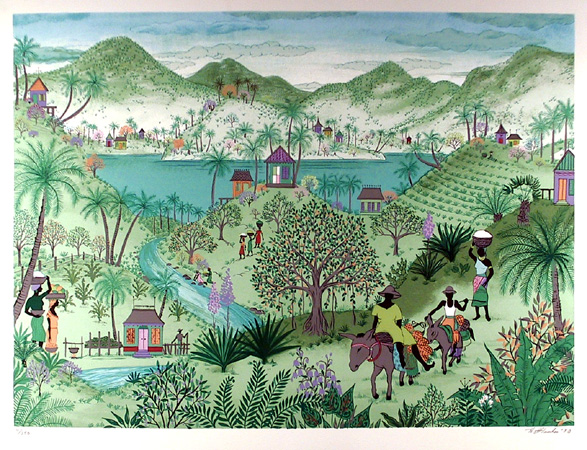 Artist: Jack Hofflander
Title: Donkey Ride
Year: 1980
Medium: Serigraph
Edition: 250
Paper Size: 25-1/2" x 33"
Hofflander studied at the Chicago Academy of Fine Arts and at the Art Students League in New York He has lived in the West Indies, where his admiration for primitive painting and his love of American primitives combined to develop his unique style.
Jack Hofflander's paintings celebrate the charm of the Haitian and New England countryside. A sophisticated primitive landscape painter, Hofflander romanticizes small worlds of fact and fantasy and creates immaculately painted towns and villages that come alive in an environment of eternal spring.
There is an obvious relationship between Hofflander and the art of Middle Eastern Persian miniature painters. The attention 10 detail and a regard for all things small and precious are obvious comparisons.
However, Hofflander does not limit himself to miniatures for his reputation as a muralist precedes him. Over the years, his most avid clients have been people from the film industry and theatre. Their enthusiasm for fantasy, both romantic and mystical, is the only criterion needed to appreciate the lyrical paintings of Hofflander.
To date, Hofflander has converted his paintings into needlepoint tapestries of exquisite detail and content. Preferring to see himself as an Eastern painter who paints in the West Indies and New England, Hofflander has created a synthesis of style and technique which marks him as an unusually gifted artist.
ONE-MAN SHOWS 1953 Wellons Gallery, New York City 1955 Little Studio, New York City 1957 Little Studio, New York City 1959 Little Studio, New York City 1960 Sugar Mill Gallery, St. Vincent, W.I. 1962 Hayden Calhoun Gallery, Dallas, Texas 1963-1969 Bodley Gallery, New York City 11969 Worth Gallery, Palm Beach, Florida 1970 Hancock Country Club, Hancock, New York 1971 Two River Gallery, Roberson Museum, Binghamton, New York 1973 Inscape Gallery, New York City 1977 Shore Gallery, Boston, Mass. GROUP SHOWS New Haven Museum of Sciences & Industry, Conn. Four Corner Gallery, Bethlehem, Conn. Art Students League, Diamond Jubilee, New York City
Dealer accepts: Authorize.Net, Cash, PayPal, Check
Shipping: Negotiated with Seller
Items Similar To "Jack Hofflander, S/N Print, Folk Art, Donkey"