Antique Ivory Carvings - Hexagonal Ivory Vases & Covers - 18 Lohan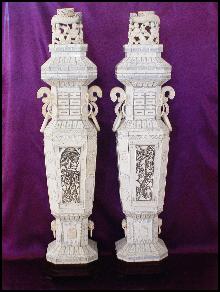 Click thumbnails for expanded view.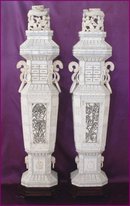 $17,500.00

---

Quantity Available: 1
RARE - STUNNING PAIR of HEXAGONAL IVORY VASES & COVERS with 18 LOHANS (ARHATS) - 42" TALL - 46 POUNDS! COMPARE with OTHERS PRICED AT $125,000! This is an exquisite matched pair of intricately carved hexagonal figural covered vases and covers with loose ring handles. Each vase has 4 panels of the 18 Lohans (Arhats) in low relief and shou (long life) characters, the lids with dragon dancers. The Arhats are said to be the personal disciples of Buddha. Following is a brief description of each of the 18 Lohan: ANGAJA - The snake-catcher whose aim was to prevent the snakes from biting those passing by. His kindness of heart protects you and his presence in the home prevents all poison from coming into the home. He is uninfluenced by destruction, fame, possessions, and losses or other outside factors. He is compassionate and accommodating. He is always joyful and untroubled. AJITA - He was once a powerful government official who becomes a Buddhist monk living in a monastery deep in the mountains. He returns to the palace riding a deer and the king begs him to return. Instead he successfully advises the king to abdicate and return to the monastery with him. The Lohan on a deer in your home signifies spiritual awakening - a very auspicious sign. CUDAPANTHAKA - One of Buddha's favorite disciples. Buddha gave him a tin staff and told him, "Just tap this staff. If the people inside want to give you alms, they will come out." The tin staff has become the symbol of this Lohan. One must practice diligently in order to eradicate the greed, anger and ignorance existing in one's mind. KALIKA - The elephant is known for its immense strength and power, endurance and perseverance and is regarded as a very special animal by the Buddhists and having this Lohan riding the elephant in your home is exceptionally auspicious as it brings excellent luck and victory over evil forces. KANAKAVATSA - He was a well-known speaker and master of Buddhist doctrines. He assures his listeners of happiness and contentment. He is always seen with a happy and smiling face. Having him in the home brings everlasting happiness and his big laughter dispels all obstacles and unhappiness. VAJRAPUTRA - This Lohan symbolizes the invincible might of the principles of Buddhist thoughts - compassion and wisdom. He is shown with a lion which is regarded as a protector against disturbances to your peace. PINDOLA - He was the leader of the Eighteen Arhats. When he was born, his father was told that Buddha also had two long eyebrows so his son had the look of the Buddha in him. Pindola was sent to a monastery to become a monk, eventually attaining enlightenment. He is foremost in his boundless virtues and wisdom. NAKULA - He was a warrior with immense strength. He gave up a life of fighting and killing to meditate and becomes a monk, finally attaining enlightenment. He is considered one of Buddha's favorite disciples. His presence in the home enhances the serenity of the home. GOBAKA - He defeated a rebellion led by his younger brother by renouncing the throne and embracing a life dedicated to Buddha's teachings. Gobaka literally means "man of heart," someone who might be weak physically, but is strong of spirit. Baring his chest, Gobaka reveals that if we can sustain the purity of our mind, abstain from evils and work hard on altruistic deeds, we are no different from the Buddha and our heart is thus the Buddha's heart. BODHIDARMA- He climbs mountains and fords streams spreading Buddha's teachings for the deliverance of humanity. He is always graceful and carefree. His presence in the home is highly revered by the Chinese, who also see him as the Great Master of martial arts. VANAVASIN - He became enlightened after becoming a Buddhist monk and meditating under a plantain tree. His mind is always at peace. Having him in the home brings the guru into your life. KANAKAHARADVAJA - He is a Buddhist monk famous for asking for alms with a raised bowl. He teaches the Dharma to sentient beings with his kind words and altruistic deeds. The begging bowl is a powerful symbol of humility and it signifies that one may be poor materially but as long as one is rich spiritually, then one will attain eternal happiness. PANTHAKA - He is said to be a monk who liked to meditate in the half-lotus style. His presence in the home brings harmony amongst siblings. SUBINDA - He was the last disciple the Buddha accepted into the Sangha Community. He carries a special pagoda in memory of his Master and this signifies the mind of the Buddha being always with him forever. Having this Lohan in the house signifies the presence of the holy Buddha's mind which is incredibly auspicious. NAGASENA - His name means "an army of dragons" and symbolizes strong supernatural powers. He was also regarded as the one with a sharp sense of hearing which is one of the six sources through which mankind become aware of the world. MAHAKASSAPA - He is one of the ten great disciples of the Buddha. The king of the undersea flooded the kingdom and rescued the sutras which he put in his palace. Mahakassapa subdued the dragon guard and restored the sutras back to earth. Hence he is called the Taming Dragon Lohan. He is renowned for that symbolic moment at the Vulture Peak's assembly when the Buddha motioned a flower without uttering a word. Only he smiled because he realized the Truth had to come from within one's heart which words could never express. PINDOLA - He was a general who because of his devotion to Buddhism was ordered by the king to become a monk. He ultimately overcame the desire, greed, anger and hatred that existed in his mind. Pindola joined a monastery in the mountains where he could hear a tiger howling every day. Pindola collected food which he left outside the monastery. The tiger did come for the food every night. After a period of time, the tiger was tamed. Thus Pindola was referred to as the Taming Tiger Lohan. RAHULA - He was the youngest and one of the Buddha's ten favorite disciples well-known for his meditative power. He is foremost in tolerating insults. It is believed that he became omnipotent and omniscient during meditation. His presence in the home brings enormous blessings from his meditation. The characters on the bases are all Long Life symbols. Each vase has an elephant on each side with freely floating loose rings hanging from the mouth of each elephant. The custom rosewood stands add another few inches to the height of these vases and further serve to accentuate the beauty of these fantastic pieces. The height of each of each vase is approximately 42" and they weigh 46 pounds! These carvings are genuine elephant IVORY and in EXCELLENT CONDITION. They were HAND CARVED and HAND SCRIMSHAWED in China by a gifted master craftsman in the early 1900s. They have a lovely patina that nature has chosen to bestow upon them. These carvings are UNIQUE and exhibit beautiful IVORY GRAIN which is guaranteed to be clearly visible. The ivory has been highly polished and exquisitely detailed. The quality of the ivory, the quality of the carving and the quality of the scrimshaw work are all exceptional. These carvings were legally imported into the USA and can only be shipped to locations within the USA. This stunning pair would make a stellar addition to your collection of Asian ivory art and would certainly provide for a magnificent entrance to any home or office. They should easily increase in value over time. Dimensions (Each): 42.00" x 9.00" x 8.00" Weight (Combined): 46 Pounds - IF YOU WOULD LIKE ADDITIONAL PICTURES OF THIS ITEM THAT ARE LARGER AND SHOW MORE DETAIL, PLEASE SEND US AN E-MAIL AND WE WILL FORWARD THEM TO YOU. THANK YOU FOR YOUR INTEREST!
Dealer Accepts:
Item Details:
Dimensions
Width: 9 inches
Height: 42 inches
Depth: 0 inch
Weight: 46 pounds
Items Similar To "Antique Ivory Carvings - Hexagonal Ivory Vases & Covers - 18 Lohan"