Antique Ivory Carving - The God of War & Wealth - 31"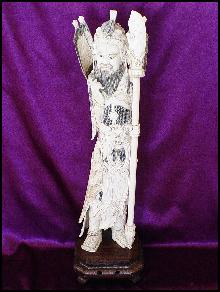 Click thumbnails for expanded view.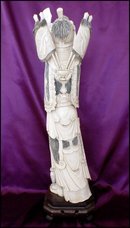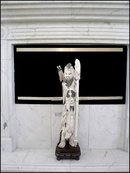 $17,500.00

---

Quantity Available: 1
Hand Carved Ivory - EXTREMELY RARE - The GOD of WAR & WEALTH holding a LONG HANDLED BROAD SWORD - 31" - 25 POUNDS. This is a massive Chinese ivory figure of Kuan Kung - the God of War and Wealth on a gorgeous inlaid wooden stand that is original to the piece. He is holding a long handled broad sword engraved with a constellation, with flags to his shoulders, and is one of the Four Heavenly Kings. Flags are often used in the costume of any of the Four Great Heavenly Kings. The boss to the belt around his waist is a dragon�s head. The dragon is the symbol of luck, wealth, good fortune and wisdom. The dragon represents male vigor and fertility and is also the imperial emblem of the Emperor. The dragon is the symbol of the emperor and ranks first amongst the 4 supernatural creatures. The weapon he holds is a long handled broad sword and was a weapon often used in China. The engraved design to the blade is a constellation of stars indicating that this is indeed one of the Four Heavenly Kings. Kwan Kung is the most popular and most famous general in Chinese history and is deified as the God of War. His very stance denotes power, honor and incredible inner strength. His presence brings about status, honor, integrity and a strong instilled sense of self-belief. Kuan Kung has, among his many other titles, Protector of the oppressed, Patron Saint of the police, Guardian of politicians and business leaders. He was a general during the Three Kingdoms period. His trademark is the long beard, long whiskers and long broad blade weapon. He tried to restore the power of Han Dynasty. He won many battles and killed many of the enemy's generals. He was ultimately put to death by an enemy leader. Legend says that the night he died, his ghost appeared to a Buddhist monk requesting to be instructed in the Dharma. After his death his spirit would not die and his divine image appeared in the sky several times. He is remembered for his bravery, fighting skills, faith, righteousness, loyalty to friends and acts of justice. The Chinese believe that his spirit can protect them and repel bad luck. Subsequent to the Ming and Ching Dynasties, business men and women began to worship him because they want to win at business just as Kuan Kung won all of his battles. Consequently Kuan Kung also became the God of Wealth and Prosperity. Displaying his image in the home facing the entrance door assures that his fierce countenance will chase away evil energy and is most powerful when placed in the northwest corner of the house. It is also believed that placing his image behind you at work will ensure powerful support from important people. It is said you can trust him to bring you the right person to help you at the right time. He protects you from fraud and embezzlement and promotes loyalty. The image of Kuan Kung is said to guarantee peace and harmony for all residents, protection, prosperity and luck. He strengthens the energy and authority of the men in the house, assisting them in gaining promotions and material wealth. He is able to collect all the evil energy that approaches and distil it into goodness. The majestic general with his Dragon Sword not only bestows a strong force of protection, his presence brings about status, honor and integrity. This carvings is 100% elephant IVORY and in EXCELLENT CONDITION. It was HAND CARVED and HAND SCRIMSHAWED in China by a gifted master craftsman in the early 1900s. It has a lovely patina that nature has chosen to bestow upon it. This carving is UNIQUE and exhibits beautiful IVORY GRAIN which is guaranteed to be clearly visible. The ivory has been highly polished and exquisitely detailed. The quality of the ivory, the quality of the carving and the quality of the scrimshaw work are all exceptional. This piece would be an outstanding addition to any collection of fine Asian art and should steadily increase in value over time. Dimensions: 31.25" x 7.00" x 7.00" Weight: 25 Pounds PLEASE SEND ME AN E-MAIL IF YOU WOULD LIKE TO SEE LARGER PICTURES SHOWING ADDITIONAL DETAIL.
Dealer Accepts:
Item Details:
Dimensions
Width: 7 inches
Height: 31.3 inches
Depth: 0 inch
Weight: 25 pounds
Items Similar To "Antique Ivory Carving - The God of War & Wealth - 31""