International Mercantile Marine 1920's - White Star Titanic Ship Owners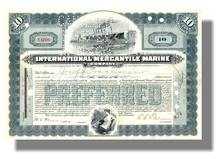 Click thumbnails for expanded view.

Beautifully engraved Certificate from the famous owner of the Titanic International Mercantile Marine Company issued in the 1920's. This historic Stock Certificate was printed by the American Banknote Company and has an ornate border around it with two vignettes. The two vignette certificate is more desirable than the single vignette variety. One of the vignettes is of a ship similar to the Titanic and the other is of a woman in a nautical setting. This item is hand signed by the company's officers and is over 74 years old. This International Mercantile Marine shipping trust was formed in 1902 by J.P. Morgan. This company controlled the White Star Line which constructed three sister ships the Olympic, Titanic, and Britannic which are depicted in the unique, nautical vignette. Each of these ships was identical in size being 882 1/2 feet long and 92 1/2 feet wide. The Titanic sunk on its maiden voyage on April 15, 1912, after striking an iceberg at 11 20 p.m. on April 14,1912. The small cancellation holes on this preferred stock have the initials of JPM & Co which stands for the J.P Morgan Company.
RMS Titanic Maiden Voyage In 1898, Morgan Robertson (1861 - 1915), published his latest book. Robertson, the son of a sea captain, had joined the merchant marine service in 1877. By now he was a popular American writer of sea adventures. His latest book was about a gigantic ship wreck. The ship in the story was an 800 foot steel giant with three propellers, two masts, many water-tight compartments, and a top speed of more than 20 knots. She was the most luxurious and biggest ship in the world. Unfortunately, she had too few lifeboats. In the novel, the ship was struck by an iceberg on her starboard side at about midnight, sometime in April, and sank in the North Atlantic with a huge loss of life. Robertson named the book, Futility, and he called the ship, the Titan. On March 31, 1909, three months after work started on the first "Olympic-class" ocean liner Olympic, work was started on the second and most famous of the three. When J. Bruce Ismay, superintendent of the White Star Line, picked out her name, he had no idea how famous it would become. He named the ship, Titanic. For her brief life, Titanic was the largest moving object in the world. She was even more luxurious than her sister Olympic in that, she had two huge state rooms, each with it's own private promenade. She also had an enclosed forward promenade and a restaurant called the Cafe` Parisien. Although in 1913, Olympic had these features added to her, for the moment, Titanic was more luxurious. On May 31, 1911, Titanic was launched. She was put under the command of Captain Edward John Smith who was captain of Olympic for her first nine voyages before being transferred to this ship. The maiden voyage of Titanic was to be his last. After that, he was going to retire. The launch lasted only a minute. It took many tons of soap and oil to grease the runway that she slid down into the water. She wasn't christened because it was customary for the White Star Line to launch without a christening. The next ten months were spent installing machinery and fitting her interiors. On February 3, 1912 she was dry docked in the Thomson Graving Dock in Belfast, Northern Ireland where her propellers were put on and a final coat of paint was applied. At the beginning of March she, for a short while, joined her sister Olympic, who returned to dry dock for the replacement of a propeller blade on one of her three propellers. On April 2, 1912, Titanic set sail from Belfast on her sea trials. By the morning of April 10, 1912, she was sitting in Southampton, taking aboard her first passengers. Some of the passengers boarding here where supposed to go on other ships. But because of a coal strike, which meant that the people who dug up coal refused to work, there wasn't enough coal to power all the ships, so they were transferred to Titanic. It was almost noon when she left the White Star pier. Not many people know that disaster almost struck immediately. As she moved at six knots through the harbor, the huge suction made by the propellers caused the steamer New York, which was tied to the dock, to snap her lines and swing away from the dock to the port side. Tug boats frantically tried to get a line on the New York and Captain Smith cut the engines. The tug boat Vulcan was able to get New York out of the way without a collision. Although the incident ended happy, many passengers thought that this was a bad sign. Titanic moved on to Cherbourg, France where more people boarded. Since Cherbourg didn't have a deep enough port for Titanic, she had to anchor off the coast and wait for her next load of passengers to be ferried out to her onboard the ferries Nomadic and Traffic. These small ships where specially built for the Olympic-class ships, to replace the older ferry, Gallic, which was too small for ships the size of Titanic and Olympic. It was unknown to the passengers that many decks below, there was a coal fire in Boiler Room 5. Nine or ten men were assigned to hose down the fire and empty the coal bunker that was on fire. The ship then moved on to Queenstown, Ireland to pick up her last passengers. Again, she had to anchor off the coast while this time, the ferries Ireland and America brought her the passengers and mail. After the last people boarded, she set sail from Ireland carrying about 2220 people. Her 1335 passengers included many rich and famous. There was Scotland's Countess of Rothes. Mr. John Thayer, vice-president of the Pennsylvania Railroad, and his family. The richest man in America, Mr. John Jacob Astor and his significantly younger and pregnant second wife of seven months, Madeleine. There was mining millionaire Benjamin Guggenheim, British royals Sir Cosmo and Lady Lucile Duff Gordon, and the famous Denver millionairess, M
Fairfax, Virginia
Seller Since 1995

---
Payments Accepted:
Item Details:
Category
Coins & Currency
Dimensions
Width: 0 inch
Height: 0 inch
Depth: 0 inch
Weight: 0 pound
Condition
See Description
Items Similar To "International Mercantile Marine 1920's - White Star Titanic Ship Owners"