Illustrated London News,1894 UN Kingdom Tea,Brooke Soap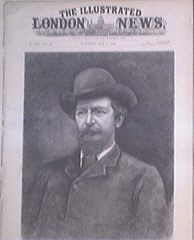 $15.00
Quantity available: 1
The Illustrated London News 5/5/1894 Vol.CIV-No.2872
Great cover illustration of Mr. Algernon Charles Swinburne
Articles Include:
Mr. Swinburne Mr. Swinburne "Astrophel" Pastels At The Imperial Institute The House of Commons. by The Mace The Two Directors Sir Frederick Burton and Mr. E. J. Poynter, R.A. (2 illustrations) Volunteers And Regulars In Middlesex Training For Outpost Duty (5 great illustrations) The Royal College of Music The Bird's Nest by Marcella Walker (beautiful full page illustration) Pastels by John Russell, R.A. (5 great illstrations) GREAT Full-page ad for United kingdom Tea Company (photo seen below) GREAT 1/2 page ad of Mappin & Webb's Fitted Travelling Bags Player's Navy Cut Tobacco ad The Faulkner Diamond ad GREAT Full-page ad for Brooke's Soap (photo seen below)
and more articles, stories, photos, illustrations and GREAT ads of the time!
Overall Good Condition!538-568 pages.
Look at our other auctions for many other issues and more. Just click View seller's other items in the top right corner under Seller information.
[Box 6633] - [Item 122354]
Dealer accepts: PayPal, Money Order
Shipping: $4.50
Items Similar To "Illustrated London News,1894 UN Kingdom Tea,Brooke Soap"