Hunt Slonem S/N Serigraph, Anthurium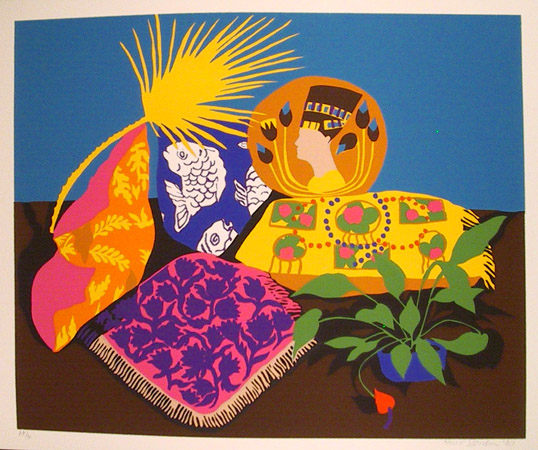 Artist: Hunt Slonem
Title: Anthurium
Year: 1980
Medium: Serigraph, signed and numbered in pencil
Edition: 250
Paper Size: 22 x 30 inches


Hunt Slonem (1951 - )

Called a Neo-Expressionist, Hunt Slonem inserts realism into his Abstract Expressionism. He combines Abstract Expressionist techniques with mysticism and animal subjects of Islam and Mexico and is best known for his paintings of tropical birds, based on a personal aviary in which he keeps about 100 live birds of various species.

Born in Kittery Maine, he spent his childhood in various states including California, Connecticut, New Hampshire, Hawaii, Virginia and Washington because his father was in the Navy. During college, he lived in Mexico and Nicaragua, and these cultures much influenced his art. He studied art at Vanderbilt and Tulane and spent a summer at the Skowhegan School of Painting and Sculpture. In 1972, he moved to New York and started using Nicaraguan holy cards as subject matter for paintings, and he has continued to do paintings of Saints. In the 1980s, after three trips to India, his work became more formal and complex in composition. He started using hatch marks in 1988. He builds patterns of repeat images of the bird subject and paints them in recognizable settings such as cages. He also paints the human figure, some of them based on photos of Valentino. His work came on the avant-garde art scene when he moved to New York. There he did some huge, panoramic murals including an 85-foot long frieze for the Bryant Park Grill. His focus is on the act of painting, and he does not strive to convey a narrative message. He paints quickly, and often his colors are jarring; he is fascinated by the manipulation of paint. He usually begins by filling in a canvas with one color, then blocks in other hues, adds the animals or figures, and then the hatched scratch marks.
Dealer accepts: PayPal, Cash, Check, Authorize.Net
Shipping: Negotiated with Seller
Items Similar To "Hunt Slonem S/N Serigraph, Anthurium"