Huge 6.25" Megladon Tooth - Nice Shape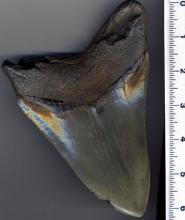 Click thumbnails for expanded view.


This is a huge megladon tooth measuring approximately 6.25". Sharks teeth are measured along the edge diagonally at the longest point. The largest one ever found measured 7.1." This tooth is in very good condition. There is 90% plus of the enamel remaining and the gum is complete except for a small part missing from the top right. The serations along the edge are quite sharp.There is a small nick at the lower left side. It lived in the Miocene period.<br>
Megalodon fossils have been excavated from many parts of the world, including Europe, Africa and both North and South America, as well as Puerto Rico, Cuba, Jamaica,[Australia, New Zealand, Japan, Malta, Grenadines, and India. Megalodon teeth have been excavated from regions far away from continental lands, such as the Mariana Trench in the Pacific Ocean. This one was found in a North Carolina riverbed. The megalodon this tooth came from was probably about 45' to 55' feet long. The earliest megalodon remains were reported from late Oligocene strata, circa 28 million years old. Although fossils are mostly absent in strata extending beyond the Tertiary boundary,[8] they have been reported from subsequent Pleistocene strata, It is believed that megalodon became extinct in the Pleistocene, probably about 1.5 million years ago. Only teeth and some vertebra of megalodon have been discovered, but it is believed he grew as large as 60 to 80 feet in length.
Payments Accepted:
Item Details:
Country of Origin
US/North Carolina
Dimensions
Width: 3.75 inches
Height: 6.25 inches
Depth: 0 inch
Weight: 0 pound
Items Similar To "Huge 6.25" Megladon Tooth - Nice Shape"