Henri Matisse, Portrait, Framed Lithograph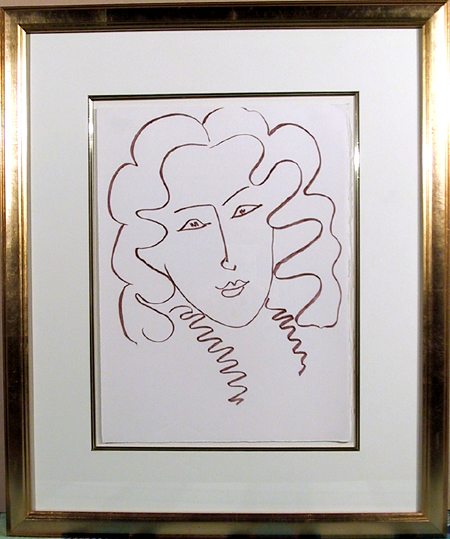 Title: Untitled (Portrait)
Medium: Lithograph
Image Size: 15" x 11"
Frame: 24" x 20"
Henri Matisse (1869-1954)
French painter and sculptor Henri Matisse was the primary figure in the group of artists known as the fauves and a major influence on twentieth-century painting. In the 1890s Matisse studied in Paris as a pupil of Gustave Moreau at the Ecole des Beaux-Arts. His style, deceptively simple, employs perfection of line to suggest the subject and, usually, the happy application of bright colors to enhance the image. He is best known for his still lifes and nudes. Matisse produced a large body of graphic work which included etchings, drypoints, woodcuts, lithographs, monotypes, and aquatints, as well as many book illustrations. In his later years, when he was an invalid, he began his highly acclaimed series of cut-out collages which he called "drawings with scissors." He was honored with the Grand Prize at the Venice Biennale in 1950, and has consistently been exhibited in the world's finest galleries and museums.
Dealer accepts: Check, PayPal, Cash, Authorize.Net
Shipping: Negotiated with Seller
Items Similar To "Henri Matisse, Portrait, Framed Lithograph"