Helen Covensky Floral Print, Spring's Passion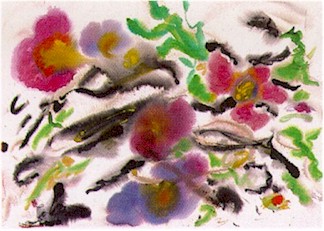 Artist: Helen Covensky
Title: Spring's Passion
Medium: Lithograph, signed and numbered in pencil
Paper Size: 22" x 29"

For hundreds of thousands of years flowers have represented beauty and abundance. Ever since the first flower illustrations appeared on primitive cave walls, people have been fascinated by their forms and colors. Subsequently they have been used not only for physical adornment, but for healing purposes, spiritual symbolism and ritual gesture, gracing modest homes and grand palaces throughout histroy. Flowers have inspired some of history's greatest art masters-Van Gogh, Monet, Manet-and won the affection and sentimentality of the ages.
Helen Covensky's lovely renditions are entrancing and light. She actually captures the essence of the flower-the intense color, the gesture of form and grace, in a manner reminiscent of the Oriental masters and in a very accessible fashion. Executed in a blithe spirit, her images convey the innocence we would expect from such a subject, expressionistic and spontaneous, yet still keeping their form.
Ms. Covensky was born in Poland where she began painting at an early age. It was in 1951 that she emigrated to the United States and soon after began her formal training in painting and the humanities at Wayne State University. During this time, Mrs. Covensky developed the lyrical quality she expresses in her work. Further study in Paris and Israel helped Helen to emerge as a sensitive artist whose use of vivid color expresses her passion for life and her strong love of nature.
INDIVIDUAL EXHIBITIONS 1977 London Arts Gallery, Detroit 1976 Livingstone-Learmouth Gallery, New York 1975 London Arts Gallery, Detroit 1973 University of Michigan, Commons Gallery 1971 Lim Gallery, Tel-Aviv COLLECTIVE EXHIBITIONS 1978 Cranbrook Art Academy Show of the Collection of Smith, Hinchman, and Grylls 1976 Lithography Group Exhbit, Wayne State University 1973 Pyramid Gallery, Ann Arbor, Michigan 1970-71 Michigan Artist Exhibition, Detroit Institute of Arts 1969 Detroit Artist Market PERMANENT COLLECTIONS Tel Aviv Museum Detroit Institute of Arts Ford Foundation City National Bank, Detroit Wayne State University Twentieth-Century Fox
Dealer accepts: Check, Authorize.Net, PayPal, Cash
Shipping: Negotiated with Seller
Items Similar To "Helen Covensky Floral Print, Spring's Passion"