HarpersWeekly-10/28/1865 Fenians,Colored Troops,Dexter!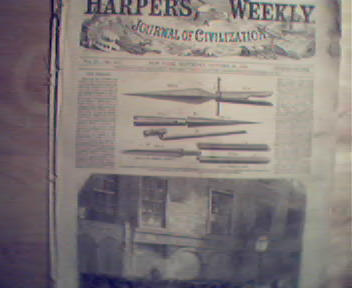 $15.00
Quantity available: 1
Contents Include;The Fenians-Seizure of the Irish People a Newspaper in Dublin and above that illustration some examples of deadly weapons in Cork belonging to Fenians!, Doom of the Democractic Party, President and Colored Troops, Jonah, Freedom to Work and Enjoy, How to Bring Down Prices, South Carolina Committe, English Rebel Loan Holders, Domestic Intelligence, Timorous Thanksgiving, Illustration of Dacotach Territory, John Stuart Mill, Chang the Cinese Giant with Illustration of him, The Horse Dexter- Full Page illustration of him on page 681, The Haunted Belfry, Fire in Constatinanople with full page illustration on page 684, Fire in the Oil Regions of PA with Illustration on page 685, Humors of the Day, The Haunted Belfry, Full Page Illustration of Sale of Government Mules in New York City,Half a Million in Money, Paris Fashions for October in Illustration and Story, Great Illustrations and Ads-Pile and Cough Remedy, Cousin Lizzies Monthly, Arcana Watch, Portable Printing Offices from Adams Press, American Steel Collars, A Few chips and tears to pages,some stains from water exposure, and light wrinkling to pages,Overall Very Good Condition! [Box 4663] - [Item 120833]
Dealer accepts: Money Order, PayPal
Shipping: $4.50
Items Similar To "HarpersWeekly-10/28/1865 Fenians,Colored Troops,Dexter!"