Greeting Card Organizer Box w/ Inserts, Drawer & Cards~like Hallmark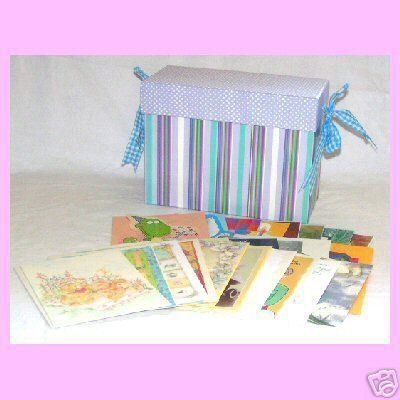 $39.00
Quantity available: 3
24 Greeting Cards And Card Organizer Box with Inserts~~ This box is 10" wide, 7.5" tall, and 4 1/4" deep. It is large enough for all your cards and will hold some of the larger card shop cards as well as all the standard size and note card size. It is very similar to the fabulous Hallmark Card Organizer that came out seversl years ago.
Inside, there are 12 card stock dividers. Each one has the month, and lists the birthstone and flower for that month. Below, there is room to write in 10 Birthdays and 10 Anniversaries. There are also extra lines for other important information. Never again will you miss a special occasion. Just fill in the dates for your friends and family and put appropriate cards in the organizer. Then each month, open your box, fill out your cards and mail!
We are also including an assortment of 24 greeting cards to get you started. The cards you receive may be different than those pictured, but you will get the following assortment: 10 Birthday cards, 2 Wedding cards, 4 Get Well cards, 2 Baby cards, 4 Sympathy cards & 2 Anniversary cards. You will never forget any special events again! Such a wonderful organizer!
Dealer accepts: PayPal, Money Order
Shipping: $12.00
Items Similar To "Greeting Card Organizer Box w/ Inserts, Drawer & Cards~like Hallm..."