Glass Animals: 3500 Years of Artistry and Design by Albane Dolez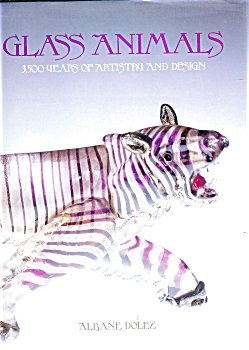 Here, in 300 illustrations, are premier examples of the glassmaker's art, ranging in date from Dynastic Egypt to the present day, and from over twenty countries. The United States and Japan, Europe (from Russia to Spain), and the Middle East are all represented. In addition to the historic examples are Art Nouveau and Art Deco glass, and glass by such masters of the genre as Louis Comfort Tiffany and Emile Galle, all drawn from museum collections and private treasuries the world over. Pieces by the outstanding manufacturers of glass-Steuben, Baccarat, Lalique, Daum, Kosta Boda, and others-and contemporary examples from art glassmakers of today add to this diverse compendium of animals in glass. Equally diverse are the many types of glass, among them blown glass, mosaic, crystal, pate de verre, milk glass." GLASS ANIMALS: 3500 YEARS OF ARTISTRY AND DESIGN by Albane Dolez, Harry N. Abrams, Inc., N.Y., 1988. We learn of the many uses and appearances of glass animals throughout history: in stained glass windows, as vases, lamps, plaques, tiles, beakers, paperweights, jewelry perfume bottles and figurines. Here is a very beautiful book rendering in picture and narrative the fascinating history of these highly collectible objects of art glass.

Oversized 9" x 12" hardback with dust cover in very good++ condition. 224 pages.

Dealer accepts: PayPal
Shipping: Negotiated with Seller
Items Similar To "Glass Animals: 3500 Years of Artistry and Design by Albane Dole..."