Gina Lombardi S/N Lithograph, Island Girl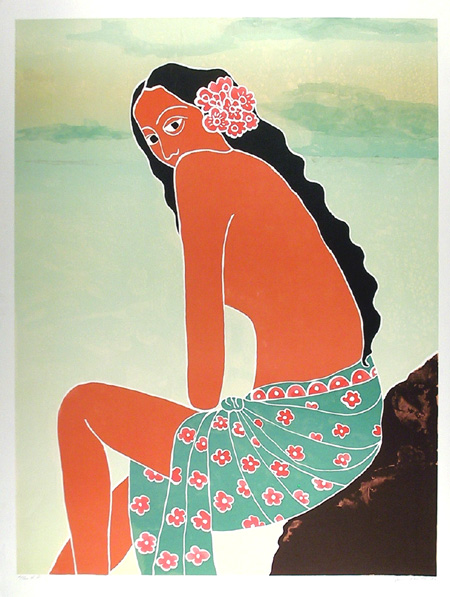 Artist: Gina Lombardi
Title: Island Girl
Year: 1980
Medium: Lithograph, signed and numbered in pencil
Paper Size: 34" x 25"

Gina Lombardi's art is a masterful fusion of emotion and intellect. The world of primi- tive societies is this artist's focal point of inspiration. She finds herself mysteriously bound to ancient lifestyles as searching for meaning and identity. Gina Lombardi was born in Ispica, an ancient town in Sicily whose history goes back to the golden era of Greek civilization. At a very young age our artist was already creating works of art. She recalls drawing before even writing to the amazement of all around her. She would often entertain her young playmates by sketching what they requested of her. Al age 8 she arrived in the United States continuing to create through- out her childhood winning many art competi- tions. She studied at Hunter College and The Parsons School of Design. Returning to Sicily each summer she worked with Giovanni DeRosa, a talented Sicilian artist. In 1968 Gina Lombardi became interested in Indonesian wax resist techniques. From the knowledge she acquired, she proceeded to create her works of art for which she is best known. Using wax resist and water colors she produces works of art with emphasis on linear simplicity that have a most sedating effect. According to our artist "Art is a contract between the artist's inner feelings with the outer world, the artist must be in touch with the self and gather all the mysterious feeling that flow in the subcon- scious; be able to translate these inner experiences into universal forms." Gina Lombardi has lectured in galleries throughout the country describing the unique techniques she uses when creating her paintings. Her feeling for color has led to commissions which vary from fabric design used on contemporary furniture to textile designs used on one of a kind pure silk designer fashions. Gina Lombardi is a passionate artist who spends 15 or more hours each day working in her Croton-On- Hudson, New York, studio. Interest in her work has grown tremen- dously in the last several years. Her paintings have been on display in galleries inter- nationally. Her present success is indeed a testimony to her refreshing creative flow and the sincerity expressed in her works.
Selected Showings


1981 Burdines Art Gallery, Plantation,
Florida
1980 Davidson's Gallery, Atlanta, Georgia
Ethan Allen Contemporary Gallery,
Lighthouse Point, Florida
1979 Greg Copeland Gallery, New York,
New York
1978 Woodward Lathrop Gallery,
Washington, D.C.
Schoen's Art Gallery, Allentown,
Pennsylvania
Abraham & Strauss Art Gallery,
Paramus, New Jersey
Yellow Barn International
Art Gallery,
Armonk, New York
Scarborough Gallery, Chappaqua,
New York
1977 Artist's of Northern Westchester
Art Show
Artex Art Gallery, Hong Kong, China
Lord & Taylor Art Gallery, New York,
New York
Art Shoppe Gallery, Toronto, Canada
Bloom ingdales Art Gallery,
New York,
New York
1976 H&R Miranda Gallery, Puerto Rico
Bullocks Art Gallery, Los Angeles,
California
1975 Village Gallery, Croton-On-Hudson,
New York
Cobly's Art Gallery, Chicago, Illinois
1974 Commune d'lspica Galleria, Ispica,
Sicily
Hand of Man Gallery, Bedford,
New York
1972 Di'Stefano's Galleria, Catania, Sicily
1973 Galleria d'Arte Moderna, Siracusa,
Italy

Dealer accepts: Authorize.Net, Check, Cash, PayPal
Shipping: Negotiated with Seller
Items Similar To "Gina Lombardi S/N Lithograph, Island Girl"