Georgia Crittenden Bemis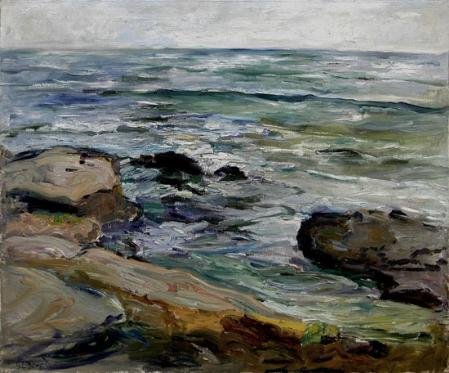 Excellent example of a significant Early San Diego artist. Professionally cleaned. Framed. Georgia Crittenden Bemis was a painter, etcher, and sculpture. She was born in Delano, Minnesota on January 13, 1908. Bemis moved to San Diego, California in 1928. She studied there at the Academy of Fine Arts and with Pauline DeVol, Charles Reiffel, Otto Schneider, and Ruth Norton Ball. After five years in San Diego, she moved to the San Francisco Bay area. Portraits became her speciality, both in oil and various sculpture media. In 1939 she went to New York to paint a portrait of Mayor LaGuardia for the Arizona Building at the World's Fair. While there, she further studied with Frank V. DuMond at the Art Students League. In 1940 she married Ray Goozen, and for many years she had a studio in San Francisco. Having enjoyed a long career, she continues to paint at her home in the hills of Oakland. Her work includes portraits, landscapes, and seascapes. She is a member of the following organizations: National Painters & Sculptors, San Diego Art Guild. She has exhibited at the following: San Diego Fine Art Guild, 1938, (portrait of Anni Baldaugh), GGIE, 1940, CPLH, 1941, Gerard Gallery, Half Moon Bay, 1990. Source: Artists in California, 1786-1940, by Edan Milton Hughes, Third Edition, Volume I, page 91, 2002.
Items Similar To "Georgia Crittenden Bemis"
Dealer accepts: Money Order, PayPal
Shipping: $65.00