Friedrich Gross S/N Framed Serigraph, First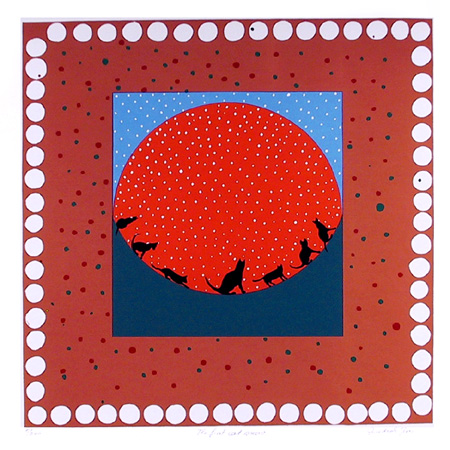 Artist: Friedrich Gross
Title: First Cat's Snow
Medium: Serigraph, signed and numbered in pencil
Edition: 200 Paper Size: 23-1/2" x 23-1/4"


The background of Friedrich Gross' paintings are centered around his domestic life with his cat Jacob, a notable character who appears in Friedrich's lyrical paintings as both the observer and the observed. The folklore, myth and fantasy of Friedrick Gross's work evokes a deep sympathetic response in the viewer. His paintings have captured the magic and myth surrounding cats and presented them in a highly polished form. While the pictures obviously illuminate the tales and fables that inspired them, each painting stands alone as an intriguing and magical vision. These whimsical paintings have universal appeal. Jacob, the cat, is the subject of many adventures and heroics as he tumbles, hides, discovers and explores the personal world that cats inhabit. Frederick Gross has intuitively captured these light moments through his psychic and sentimental attachment to "Doctor Jacob."
Friedrick Gross is also a master artisan and craftsman, who for two years has been busy painting his magical images on custom-built armoires. Friedrick studied restoration in his native Switzerland where his investigation into antique furniture began. Gross paints either clients' armoires or on antique ones by commission, or he has the armoires custom built by his Swiss carpenter. Today, with space at a premium, people are again finding armoires not only good closet substitutes but also perfect for storing stereos, bars and libraries.
INDIVIDUAL EXHIBITIONS 1978 Bannon Gallery, Nantucket, Mass. 1977 Swiss Centre Gallery, New York Hubris Gallery, New York 1976 The Swiss Centre, London COLLECTIVE EXHIBITIONS 1978 Southby Parke-Bernet, New York Hubrus Gallery, New York Bannon Gallery, Nantucket, Mass. 1977 Swiss Centre, New York Hubrus Gallery, New York Phanton Gallery, New York PUBLICATIONS American Swiss International Home Decorator Japan American Home Town & Country Residential Interiors
Dealer accepts: PayPal, Check, Authorize.Net, Cash
Shipping: Negotiated with Seller
Items Similar To "Friedrich Gross S/N Framed Serigraph, First"