Ford Motor Company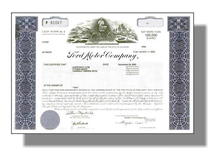 Click thumbnails for expanded view.

Beautifully engraved certificate from the Ford Motor Company. This historic document was printed by the American Banknote Company and has an ornate border around it with a vignette of an engineer looking at an early Ford car with the Detroit skyline in the background. This item has the printed signatures of the Company's Chairman of the Board and Chief Executive Officer ( William Clay Ford Jr. ) and Secretary.
Certificate Vignette Overview Ford Motor Company entered the business world without fanfare on June 17, 1903, when Henry Ford and 11 associates filed incorporation papers in the state of Michigan. With an abundance of faith but only $28,000 in cash, the pioneering industrialists gave birth to what was to become one of the world's largest corporations. Few companies are as closely identified with the history and development of America throughout the 20th century as Ford Motor Company, and perhaps no other American firm is as well known around the globe. At the time of its incorporation, Ford Motor Company was a tiny operation in a converted Detroit wagon shop staffed with about 10 people. By the end of 1913, just 10 years later, the company was producing half the cars in the United States. Paralleling Ford Motor Company's domestic growth was a foreign expansion program that began just one year after the company was formed. On August 17, 1904, the first foreign branch, Ford Motor Company of Canada, Ltd., was incorporated in Walkerville, Ontario. Production at this modest new plant began in early 1905. From this small beginning grew a global network of manufacturing and assembly plants, sales operations, parts depots and dealers, with Ford Motor Company represented in more than 200 nations and territories spanning six continents. Today, Ford Motor Company is the world's largest producer of trucks and the second-largest producer of cars. The company has operations in more than 30 countries, and employs more than 340,000 men and women at its factories, laboratories and offices around the world. Additionally, about 60,000 companies worldwide supply Ford Motor Company with goods and services. The company's annual sales exceed the gross national products of many industrialized nations. In 1998, Ford Motor Company sold more than 6.8 million vehicles worldwide. In the Beginning As with most great enterprises, Ford Motor Company's beginnings were modest. The company had anxious moments in its infancy, balancing precariously on the brink of bankruptcy until cash inflows from sales began. The earliest record of a shipment is July 20, 1903, approximately one month after incorporation, to a Detroit physician. With the company's first sale came hope. A worried group of stockholders, warily eyeing a bank balance that had dwindled to $223.65, breathed more easily, and a young Ford Motor Company had taken its first sure steps. During the next five years, Henry Ford, as chief engineer and later as president, directed a development and production program that started in a converted wagon shop on Mack Avenue in Detroit and later moved to a larger building at Piquette and Beaubien streets. In the company's first 15 months, 1,700 Model A cars chugged out of the old wagon shop. In 1988, Ford Motor Company made a strategic decision to develop a new global car. Engineers in Europe, the United States, and other design and development centers were already increasingly combining their resources on existing programs with significant results. The similarities between the various world markets also were growing, as legislation reached new levels of harmony and car buyers on different continents found their product tastes and motoring needs were less different than they had been in the past. And so, the midsize family car program known as CDW27 was developed for many countries. It was named Mondeo in Europe, Taiwan, and the Middle East. Slightly modified, it went on sale in North America as Ford Contour and Mercury Mystique. The Model T was designed for simplicity. The Ford CDW27, on the other hand, was a highly sophisticated car with two all-new, state-of-the-art, high-output engines; a new electronically controlled transmission; new electronic traction control; air bags; anti-lock brakes and other technological refinements desired by customers. CDW27 became the prototype for a new approach to product development that is both highly efficient and customer-driven – a global "platform strategy" that uses many common components to produce vehicles that are widely differentiated to meet the varying needs of different regions. This program proved that true globalization was possible, and that customer-focused teams were the way of the competitive future. The Present Ford Motor Company is ranked second on the Fortune 500 list of the largest U.S. industrial corporations, based on sales. In 1998, worldwide sales and revenues totaled $142.6 billion. Net income, excluding one-time items, was $6.5 billion. Although Ford Motor Company is best known as a manufacturer of cars and trucks, it produces other products, including industrial engines, glass, plastics, and a wide range of automotive components. Ford also is established in many other businesses-including financial services, automotive replacement parts, and electronics. In 1997, the company created Visteon, a wholly owned enterprise of Ford Motor Company, to explore and expand the market for components around the world. Ford 2000-Serving Tomorrow's People On November 1, 1993, Alex Trotman became chairman and chief executive officer of Ford Motor Company. Born and raised in England and educated in Scotland, Trotman had a worldview. He spent the first half of his Ford career in product planning in Europe, where he played a key role in establishing Ford of Europe. Within three weeks of his appointment as Ford Motor Company chairman and CEO, Trotman initiated a yearlong serie
Fairfax, Virginia
Seller Since 1995

---
Payments Accepted:
Item Details:
Category
Coins & Currency
Dimensions
Width: 0 inch
Height: 0 inch
Depth: 0 inch
Weight: 0 pound
Condition
See Description
Items Similar To "Ford Motor Company"