Fireback, Cast Iron German 18th century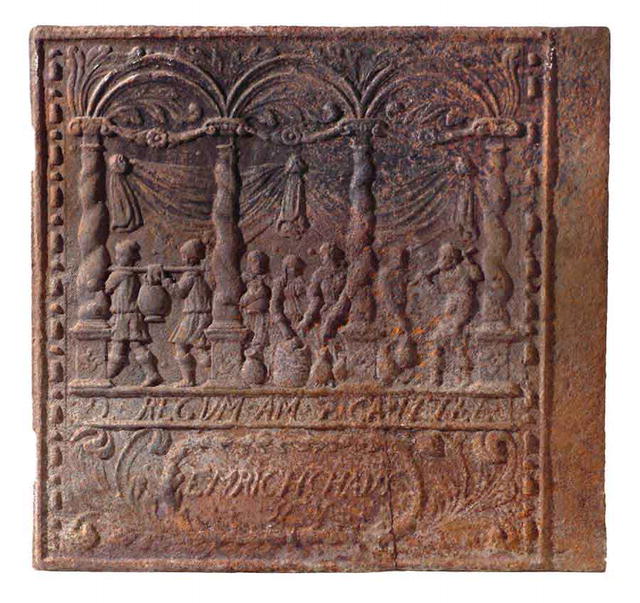 To an 18th century German stove plate or fireback of cast iron. The scene depicted is the miracle of the oil a biblical story. The widowed mother of one of Elisha's seminary students had owed money and the creditor was demanding payment by taking the student and his brother as slaves. Creditors were not to take advantage of the poor during their times of extreme need. This caused the widow who depended upon her sons for income, extra added distress upon her financial strain. Elisha had her sons collect pots and pans. She poured her olive oil into them as Elisha had instructed. The surplus of oil stopped running only when they ran out of containers. The oil was then sold to pay the debt as well as there was enough income for her to live off for the rest of her life. The miracle of the widow's oil was not intended for public sensation but to privately demonstrate God's grace and mercy to the widow. Through Elisha God not only met the widow's immediate need but long range ones as well.

Height: 24.5", Length: 26", Width: 0"
Philadelphia, Pennsylvania
Dealer accepts: Check, PayPal, Money Order
Shipping: Negotiated with Seller
Items Similar To "Fireback, Cast Iron German 18th century"