Ericsson Svensk-Dansk-Ryska ( Russian Telephone Company ) 1915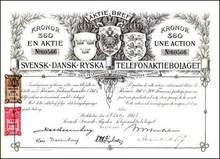 Click thumbnails for expanded view.

Beautifully engraved certificate from the Aktie Bref Svensk-Dansk-Ryska Telefonaktiebolaget issued no later than 1915. This historic document has an ornate border around it with a vignette of the coats of arms from Sweden, Danmark and Russia and an early Ericsson telephone handpiece. This item has the printed signatures of the company's officals including Knut A Wallenberg and Marcus Wallenberg Sr. This item is over 88 years old. This early Ericcson company was organized to provide telephone service in Russia. Hence Svensk-Dansk-Ryska Telefon Aktiebolaget was founded on November 14, 1901. Each share was issued at par for SEK 360 = FFR 500 with the entire share capital in bearer shares. Each share was accompanied by annual 19 dividend coupons. The original certificate was a copper engraving. In the upper middle of the share appeared the three national coat of arms in the order of Sweden, Russia and Denmark. The certificates were bilingual: Swedish to the left and French to the right. Issuing banks were Stockholms Enskilda Bank, Den Danske Landmandsbank and Banque de Paris et des Pays-Bas. Among the founders of the company were Henrik Cedergren, Wilhelm Montelius (Chairman of Telefon AB L M Ericsson 1905-1916), Knut A Wallenberg, Marcus Wallenberg Sr., Den Danske Landmandsbank and Stockholms Allmänna Telefon Aktiebolag. Other wellknown founders were Arvid Lindman (Sweden's Prime Minister 1906-1911 and 1928-1930), and Princess Marie of Denmark (related to the Tsar family). On January 1, 1917, the entire network, the telephone station and all other company assets in Russia were turned over to The Russian Telephone Company - at first without a formal agreement about the purchase sum, subsequently with a written agreement amounting to SEK 50 million to be paid over a 10-year period with a 6 % annual interest. Following the revolution and the establishment of the bolsjevik government all relations between Russia and other countries, include Sweden, were abandoned. Like all other private assets, the telephone company was nationalized. Repetitive attempts were made up to 1934 to settle the claim with the Soviet Union – but in vain. As late as in 1954 Svensk-Dansk-Ryska Telefon Aktiebolaget was listed on the "free list" of the Stockholm Stock Exchange. The last known trading price of the share was SEK 1,100 for 189 shares of the company. As the major shareholder of Svensk-Dansk-Ryska Telefon Aktiebolaget Telefon Aktiebolaget L M Ericsson organized annual meetings of the former company up to 1985 when the decision was taken to liquidate the company – perhaps a few years too early in the light of what happened to the Soviet Union by the end of the 80's. In recent years several settlements on Tsarist bonds have taken place. For instance all bonds issued or guaranteed by the Russion government prior to November 7, 1917, regardless of currency, held by U.K. subjects prior to July 14, 1986, were repaid at appr. 55 % face value (but without interest) in installments up to June 1990. Similar, although less generous, repayments have taken place with Russian bonds to Belgian and French subjects. The History is from John Örtengren, Ph.D., M.B.A President of the Swedish Society of Historical Certificates
Fairfax, Virginia
Seller Since 1995

---
Payments Accepted:
Item Details:
Category
Coins & Currency
Dimensions
Width: 0 inch
Height: 0 inch
Depth: 0 inch
Weight: 0 pound
Condition
See Description
Items Similar To "Ericsson Svensk-Dansk-Ryska ( Russian Telephone Company ) 1915"