CZECH MALACHITE GLASS PEACOCK PERFUME BOTTL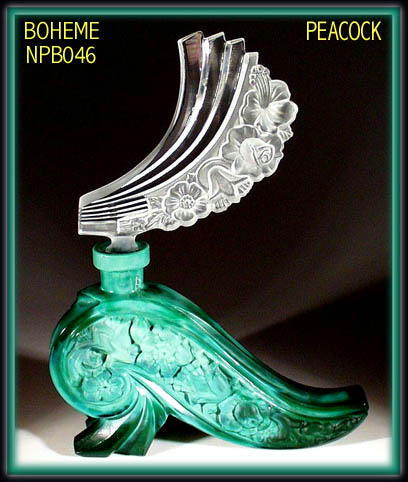 This is really one of the most rare and magnificent perfume bottles ever produced. This bottle was designed in the 1930's, but apparently never made it to the U.S. market because of very expensive production cost. The bottle and stopper has floral decor in relief, acid etched icy satin finish. Very complicated hand cut work is exquisite - there is not one visible mold seam - every detail is finished to perfection. The shape is reminiscent of the "King of the Royal Garden", hence the name PEACOCK. The color glass bottles range from the easy to find to extremely rare. Clear crystal is the least expensive, most common and easiest to find. The production of the Vaseline and opaque colors is the most expensive and most difficult to find. Rarity of colors : "1" easiest to find (Clear Crystal), "2" common, "3" intermediate, "4" scarce (opaque black), "5" rare (Vaseline, Malachite), "6" very rare (opaque blue-Lapis), "7" hardest to find (Turquoise-Aqua). For more details see pg. 11 in the publication listed below. This Malachite glass is rated "5" - Rare. Size : 7" high x 6"wide. Mint condition, Boheme Studio, Czech Republic. Please note that in some cases photo sizes are automatically reduced, so if you want to see full size or detailed pictures, please email us (boheme1993@yahoo.com).
Dealer accepts: PayPal
Shipping: $15.00
Items Similar To "CZECH MALACHITE GLASS PEACOCK PERFUME BOTTL"