Country Girl-S.Blackmer,Nancy Kelly,Dane Clark c1940!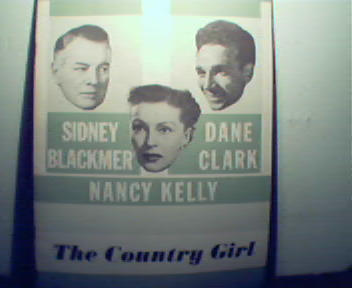 $15.00
Quantity available: 1
Paula Stone and Mike Sloane Present-The Country Girl with Sidney Blackmer, Dane Clark and Nancy Kelly, a New Play by Clifford Odets, Staged by Lee Strassberg, Lighting and Sets by Boris Aronson, Jack Present is Production Associate, Scenes from Sidney Blackmers Motion Pictures and Stage Sucesses; Cheers for Miss Bishop with Martha Scott, The Kings Men with William Byrd, Come Back Little Sheba with Shirley Booth, The Little Colonel with Shirley Temple, The Rough Rider as Teddy Roosevelt, Kismet with Otis Skinner, and The Count of Monte Cristo with Robert Donat, Nancy Kelly and some of her Movies-Show Business with George Murphy and Eddie Canto, Women in Bondage, Tornado with Chester Morris, and Submarine Patrol, and Stanley and Livingston with Spencer Tracy, Dane Clark and His Movies-Whiplash with Alexis Smith, Pride of the Marines with John Garfield, Destination Tokyo, and Hollywood Canteen with Joan Crawford and Robert Hutton, and That Way With Women with Martha Vickers, and the Story of how "The Country Girl" Came about with Photos of Clifford Odets, Lee strasbeg and Boris Aronson! Overall Good Condition! [Box 4670] - [Item 121426]
Dealer accepts: PayPal, Money Order
Shipping: $4.50
Items Similar To "Country Girl-S.Blackmer,Nancy Kelly,Dane Clark c1940!"