Combat Helmets of the Third Reich Vol 2 by: Kibler & Iqbal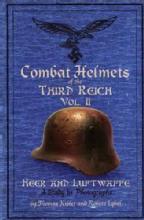 Click thumbnails for expanded view.

$25.00

---

Quantity Available: 2
RED-2005-1929572077-WH1
Collector Bookstore is a retailer of new books located in Leavenworth, Kansas. We specialize in price guides and reference books for the antiques and collectibles industry.
Table of Contents
The purpose and intent behind this work is simply to provide collectors, both novice and expereienced, with a wealth of detailed photos from which to gain a better understanding of what an original World War Two German Wehrmacht helmet looks like. Since the time of that horrible and vicious conflict between Allied and Axis forces, much has happened to the helmets used by the Third Reich. Thousands of helmets were shipped to neighboring countries as war reparations to be repainted, relined, and used by their military. These include Norway, Czechoslovakia, and the Netherlands. Thousands more, met their end in the blast furnaces of the former Soviet Union, as they melted the steel to use for arms against their former owners. Still more lay buried, covered in the ground which hides the horrors of war. Those helmets that remained found their way to the homes of the victorious soldiers. Today, these war souvenirs are the desirable helmets sought by a wide variety of collectors. However, as with all collectibles, the rising value of the helmet lured some into the "remanufacture", "reproduction" and "fabrication" of the original style helmets. Every component of the original, is remanufactured today. Several of the items are stamped by the very equipment that produced them through the 1930s and 1940s. These items, coupled with the reintegration of the helmets delivered to Norway, Czechoslovakia and the Netherlands and now in the hands of an artist, can mirror an. original, veteran bring-back trophy With a little time and effort, a helmet and parts purchased for a few dollars can be assembled and "artificially aged" (through a variety of means) to resemble a valuable original. How is one to know the original from the fake without being victimized over and over?
Perhaps the best manner of making a determination is to see, first hand, original examples. These are becoming more and more difficult to come by and are demanding greater and greater prices. This, again, is the purpose for this book: to have a detailed study of original Wehrmacht Heer and Luftwaffe helmets, which can greatly assist one in education and identification of the real versus the fake and help eliminate the "Reckless Optimism" many collectors display when desiring to acquire an authentic helmet. I consider myself a collector and historian and not an expert. Certainly there will be some who will point fingers and say some helmets or components pictured are those that have been fabricated or reproduced. Great effort was placed in authenticating the pictured examples. The history behind these relics signifies a past that must be remembered, for all those who fought and died, on all sides. Remember, these were soldiers. As all soldiers do, they were fighting, not so much for their country, as for the "Kamerad" on either side of them while on the battlefield.
Dealer Accepts:
Item Details:
Category
Militaria & Weapons
Dimensions
Width: 6 inches
Height: 9 inches
Depth: 0 inch
Weight: 0.75 pound
Items Similar To "Combat Helmets of the Third Reich Vol 2 by: Kibler & Iqbal"