Collector's Guide to Antique Radios 7th Edition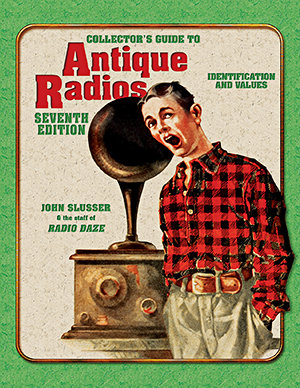 John Slusser, collector, full-time radio dealer, and well-known figure in the radio field, along with the staff of Radio Daze, have compiled this updated and expanded seventh edition of our popular series. Filling the need for an easy-to-use, complete price guide to these collectibles, Collector's Guide to Antique Radios, Seventh Edition, gives descriptions and current values for approximately 10,000 models of antique radios with over 800 full-color photographs. Our guide gives complete descriptions of every radio along with selected full-color photos and information about the radio manufacturers. The informative text provides explanations for the many confusing terms and abbreviations used in the radio field. Listed alphabetically by company, the radios are accompanied by current collector values. The book is devoted to the golden age of radios, the 1920s through the 1950s. Although the majority of these radios have long since vanished, many still remain as living examples of the quality and charm of products from this period. 2008 values.
Dealer accepts: PayPal
Shipping: Negotiated with Seller
Items Similar To "Collector's Guide to Antique Radios 7th Edition"