Collecting Playing Cards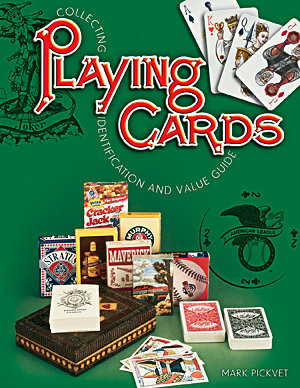 Playing cards, though still affordable, may not be for long, considering their availability on eBay and other online auction services. The listings on these sites for playing cards at times exceeds 10,000, putting the hobby in line with such collectibles as Coca-Cola, dolls, bottles, furniture, shot glasses, and Star Wars. This handy guide provides the most comprehensive listings to date along with current market values on popular collectible playing cards from the later nineteenth century to the present, with a focus on advertising. There are over 1,600 listings along with hundreds of photographs. Soft drinks, beer, NASCAR, sports, casinos, airlines, cartoons, restaurants, colleges, department stores, and other hot categories of cards are featured in this comprehensive guide. SHIPPING FEES: Domestic shipping is available for $6.00 for the 1st book and $0.70 each additional book (via media mail). International shipping is available or $11.00 per book via USPS (15 to 20 business days for delivery) and $30.00 fro the first book 1st book and $10.00 each additional book via FedEx (4 to 8 business days for delivery).
Dealer accepts: PayPal
Shipping: $6.00
Items Similar To "Collecting Playing Cards"